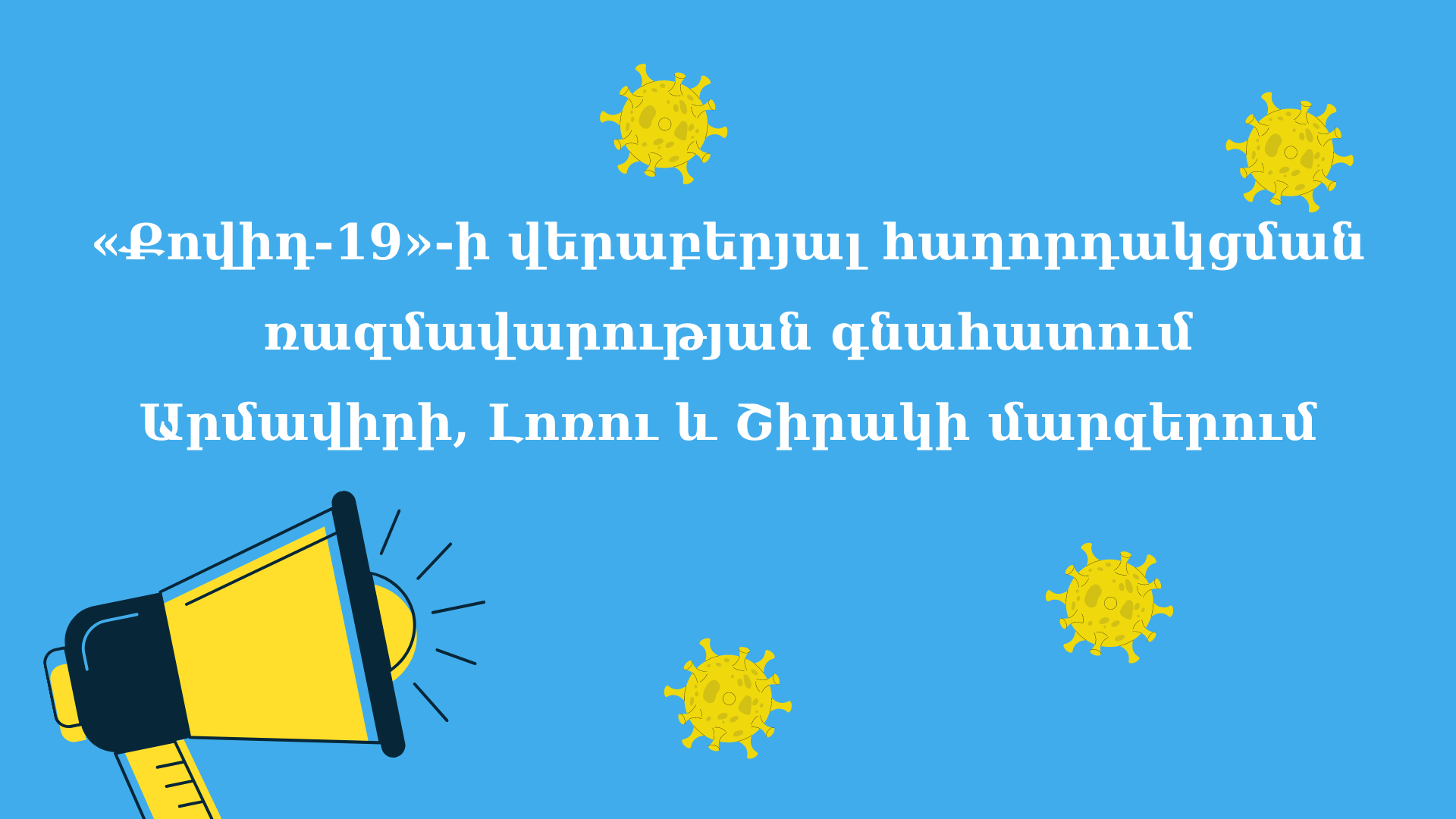 Communication strategy assessment on «Covid-19» pandemic in Armavir, Lori and Shirak Regions
October 25, 2021
Category: News
Effective communication can save lives and also the other way around ineffective awareness raising and communication creates new challenges.
The survey is available here.
A presentation of the study results is available here.
Responding quickly to the circumstances of a crisis requires a well-thought-out, well-planned communication strategy. Governments of the countries that have communication strategy for epidemic situation and institutional grounds for communication skills during crises situations act more openly, transparently and systematically during pandemy, involve important structures and specialists to develop and implement communication, chose more effective, useful and effective communication.
This document is a comprehensive study of the communication (communication strategy) implemented by community administrations  in Armavir, Lori and Shirak regions of RA due to the crisis situation created as a result of the spread of the coronavirus infection.
The primary goal of the study is to support the community bodies of the Republic of Armenia, regional administrations and municipalities, other state administrations, including local self-government bodies.
Due to practical suggestions and recommendations, it can contribute to the improvement of crisis communication of state institutions. This analysis was carried out first in order to qualitatively improve the public communication of the regional administrations and municipal administrations of Armenia, to highlight the existing problems and to propose solutions.
Author of the research: Seda Muradyan, head of Public Journalism Club NGO.
The research was supported by Harutyun Tsatryan, Alexander Martirosyan, Sofi Tovmasyan, Anna Mekhakyan.
Advisor of the research team: Hayk Gyuzalyan.
The research was made possible with the financial support of "Open Society Foundations – Armenia" within the framework of the "Politics Scholarships" initiative.
The survey is available here.
A presentation of the study results is available here.