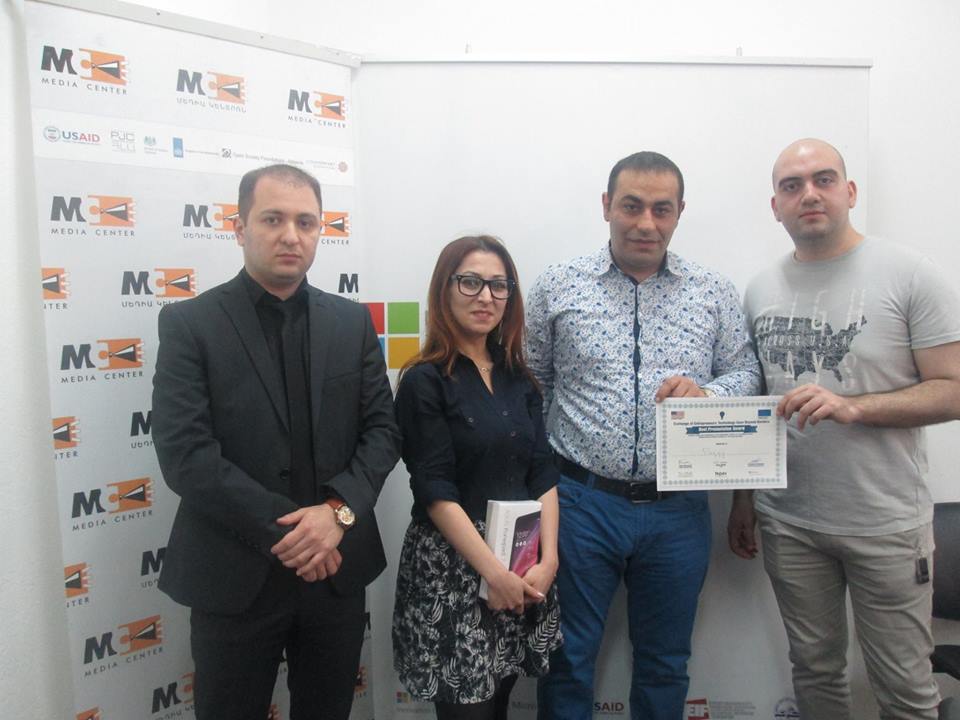 Crossing Closed Borders to Find Partnerships in Technology
Public Journalism Club (PJC) and Microsoft Innovation Center have launched the Technology Goes Beyond Borders project in November 2014 to support technology startups from Armenia and Turkey to develop and better focus their ideas.
15 participating startupers have only met online before March 26 when they came together during a Crash Course in Armenia and presented their ideas to mentors and organizers. The course was designed to help them build up technical and business skills and knowledge needed for advancing their ideas.
Emin Okutan, a trainer and mentor from Turkey, was there during each team presentation and idea pitching. He provided feedback to all teams and is confident that their ideas have the potential to evolve into big and successful businesses.
"Last October we had the first opportunity to work with the young entrepreneurs from Armenia and Turkey during the first ever Armenia-Tureky Startup Weekend. This event was included into the biggerInnoWeekend forum and its focus was on product creation. The Crash Course helps the participants to understand business modeling and transforming prototypes into real businesses", says Emin Okutan.
Before the Yerevan workshop the mentors had held online sessions with the teams, during which they provided guidance on developing their startup ideas.
Ideas Presented by the Teams
Home planning– a team from Armenia, presented its idea of creating a virtual design platform that will become a tool for users helping them to virtually renovate, furnish and design their apartments in addition to making estimates about related costs.
Turkish Evreka proposes solutions for waste management in urban areas. They intend to create special sensors that will be attached to garbage bins and give a signal when the bins are full- letting the collection vehicles know that it is time to remove the garbage. The project is designed to help municipalities by proposing a model that helps time and financial resources, have an effective garbage collection system and maintain a clean city.
Armenian Paqqy presented their idea of creating a platform that will allow people to deliver different items thus assuming a postman's role for some compensation. Users would register their orders online requesting delivery of items and find delivery people, who will be paid for their services based on the pre-established rates available at the website.
MindMe is a Turkish startup working on a mobile application that allows users learning different languages. The application will be gamified and will have an option to study for such tests as  TOEFL and IELTS.
TPI  is another Armenian team involved in the project that is working on an idea of a platform for disabled people, through which they can sell their handiwork including souvenirs, cards, wood carvings and others. The project intends to create a source of income for disabled people serving as a liaison between the buyer and people with disability.
Trendify is an idea developed by one of the Turkish teams. It envisions creating a platform for promoting trends in social media. People can share their ideas, creative initiatives and spread around new trends through this platform.
A Key to Startup Success
Course trainers from Armenia were Arsen Babayan (quality ensurance expert at WorkFront ) and  Nazaret Seferyan (director of ONEArmenia local office). Trainers from Turkey included Emin Okutan (cofounder ofViveka Technology Incubator) and Ozan Sönmez (head of  New Venture Accelarator ).
The trainers had several important tips to participants about how startup ideas should become successful businesses:
• Sound understanding of the issue that is addressed by the product or the service;
• Is the issue really a big one for the target consumer? If yes, the team working on the product should reach out to the users before starting product development to examine the issue thoroughly and should test their ideas by involving the potential users.
• Who is the real consumer of your product and how the problem should be addressed for that specific group?
• It is important to keep the solution as targeted as possible, clearly targeting one problem at a time.
•A startup team should be able to develop its product or the prototype with minimum possible costs.
• The existence of a cohesive team is key, it is even more important than the idea.
• There should be a business model, which means understanding the consumer and marketing your product in a way that you get profit.
• Starting a business is like building a road-with its blocks and milestones. In order to build a road all blocks should be placed in the right places, at right times.
• The startup idea should be constantly tested-by presenting it to different user groups and demonstrating the prototype so as the idea/product/application is refined and improved based on the received feedback.
• The road from a startup idea to a business is not like a straight line. It is more like a spiral that goes up with each step taken, develops and eventually evolves into a real business.
What did the Course Teach Them?  
The training topics were mainly focused on business modeling, time management, prototype development, working with investors and target users.
"We learnt a huge amount, received a lot of information. Our trainers taught us how to pitch our ideas professionally, making them attractive. They introduced the ABCs of marketing, business modeling and time management. It was also very important to learn how to work with our potential consumers and find the real problem that our product will address". Says Mert Barutçu from Evreka (Turkey).
Participants were surprised to find out that it is important for the team not to be too enamored with their ideas. Instead, they should be able to focus on the needs of the consumers, be flexible and find the solution to their existing problem.
Understanding principles of gamification was also a  very beneficial part of the training.  "The main idea behind it is that the product should be designed in a way to make the user interested in the platform and invite new users to try it.", says Vahagn Hovhannisyan, member of the Home Planning team.
His other important take away from the course is related to attracting investors, assessing the market and others.
"We realized that we should talk to people every day-presenting our idea and receiving their feedback to better understands the gaps and the overall feasibility of the project", says Varduhi Muradyan representing TPI.
Trainer Ozan Sönmez believes that the major limitation of the participating teams is their reserved and non compelling presentation of the ideas, while they should be self confident and inspired.
"This project made it possible for the Armenian and Turkish startups to spend sufficient time together. This may give the Armenian startups an opportunity to access the Turkish market when their products are developed and rolled out. They have established the professional and personal contacts and can use their connections to access the markets in the neighboring country", says Sönmez.
Inspired by what they learnt during the training sessions and hands on activities, the participants addressed several questions to the trainers, they also exchanged opinions about the startup ideas of the other teams reaching a consensus through discussions and debate.
"On the personal level this project allowed us to overcome certain stereotypes since before this we did not have much interaction with startups from Turkey. The contacts we established have the potential of evolving into bigger collaboration. On the professional level, it is always helpful hearing feedback from peers that are also in startup mode", says Paqqy team leader Ruben Hambardzumyan.
The teams continued their discussions during breaks exchanging ideas about turning their projects into real businesses, analyzing their strengths and weaknesses, planning how they should address the shortfalls.
"During these days we got to know the projects of the other teams, their ideas and there were elements that we can utilize in our own products. We are very similar with the startups from Turkey and there is a lot we can learn from each other. Intercultural links are also very important for both sides. It is essential that we overcome the closed borders with Turkey and find areas for mutual collaboration, at least in IT.", believes Varduhi Muradyan.
Course participants see opportunities for cooperation even after the project is completed.
"Participation in this project is important to us primarily because of the connections we established with our Armenian peers. Armenia is a potential market for us and we will be able to use these connections and implement our projects in the Armenian market.", says Mehmet Pancaroğlu, member of the Turkish Evreka team.
The young entrepreneurs also had opportunities to spend time together outside the classroom. Their social interactions helped them understand cultural and language similarities and differences, discuss the ethnic cuisines, the architecture.
"I wish such projects were continuous. They help overcome stereotypes and realize that can be friends and business partners", say Gönül Ünal, representing MindMe, a team from Turkey.
Once the course is over, the teams should go back to working on their projects supported by the mentors and will return to Armenia in May 2015 to pitch their final products.
It should be noted that Technologies Goes Beyond Borders builds on the success of the Armenia-Turkey Startup Weekend implemented by PJC (Armenia) and TEPAV (Turkey) during the InnoWeekend 2014 as part of the Exchange of Entrepreneurs project financed by the European Union within the framework of the programme Support to the Armenia-Turkey Normalisation Process. The InnoWeeekend 2014 regional innovation forum was held on November 8-9 at Gyumri Technology Center under the financial support of the U.S. Embassy in Armenia and the European Union.
TGBB is implemented by the Microsoft Innovation Center and Public Journalism Club in collaboration with the Economic Policy Research Foundation of Turkey (TEPAV) with financial support from the U.S. Embassy in Armenia and co-funding from the European Union.
Article by Lilit Arakelyan, reposted from  www.mynews.am
Attached are the training modules kindly provided by the trainers.