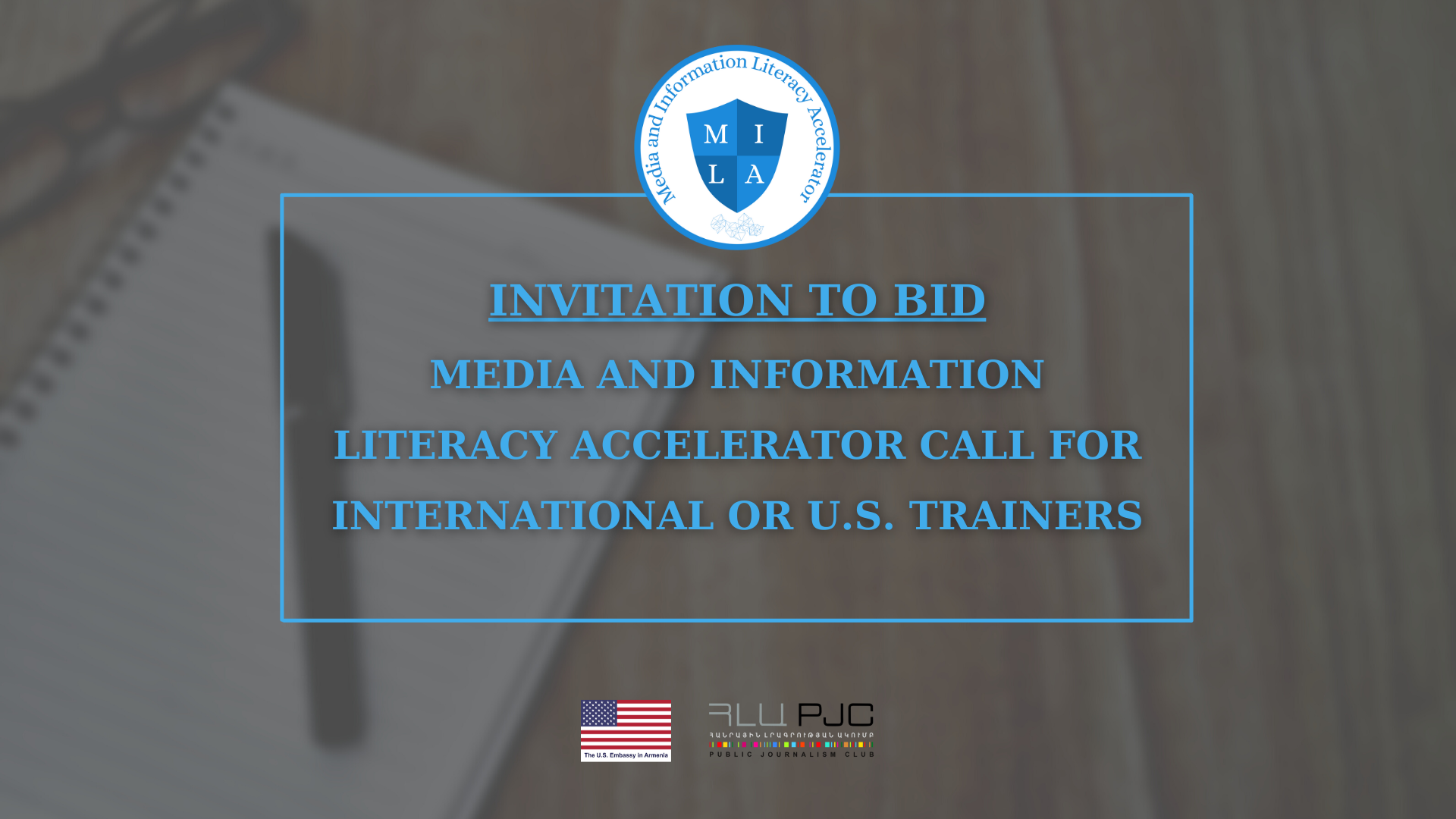 Invitation to Bid – Media and Information Literacy Accelerator Call for International or U.S. Trainers
Project Description
Media and Information Literacy Accelerator (MILA) is a project that has ambitious plans to accelerate Armenian media workers' and the general public's capacities in debunking disinformation and fact checking through capacity building and Accelerator development as well as other activities, such as Media and Information Literacy Hackathon, fact checking product development through IT solutions, etc.
Objectives
The MILA initiative aims at developing scalable tools/products that utilize the current technological and media potential to help society in Armenia to become more media literate; to enhance the capacities of Armenian media community, journalists, with a focus on regional media in media literacy, fact checking, digital and online safety, personal data protection and verification tools.
Accelerator Description
The MILA will be a capacity building program, that will provide lifelong learning opportunities in the field of media literacy for media workers, such as journalists, editors, photojournalists, and journalism students, as well as youth.  Each round of MILA will last two months, will consist of 8 webinars and 2 one day seminars, targeting media literacy, debunking disinformation, fact checking, digital and online safety, personal data protection and verification of information, etc. Capacity building activities will be conducted by international or U.S. and local well-known trainers and experts.  The project plans to carry out 3 rounds of Accelerator course.
ToR Description
The Public journalism club is looking for maximum 2 U.S. or international experts to develop the MILA course.
Accelerator thematic focus: Media and information literacy, fact checking, data protection, digital and online safety.
Development of curricula and modules for Accelerator lab course (consisting of 8 online webinars, each for 3 hours, and 2 offline one day workshops/seminars for 12 participants in each course).
Sessions may include, but are not limited to:
Media and information literacy,
Fact checking and news verification tools/skills,
Critical thinking,
Personal data protection,
Open data sources,
Freedom of information,
Debunking disinformation,
Fight against disinformation and media manipulation,
Digital and online safety,
Communication and E-communication tools,
..
The developed course must contain educational, reading, and media materials, video lessons, case examples for practical assignments.
In total international trainer/s should conduct 12 webinars and local trainers 12 webinars, 6 seminars for MILA trainees.
In total international trainer/s should provide 8 hours mentoring consultancy to MILA trainees.
Other details
English-Armenian-English translation will be provided by PJC.
Payment details
Expert payments scheme is a subject of negotiations.
Qualifications and experience required
Relevant educational degree․
Relevant training/teaching qualification,
At least 5 years of extensive experience in capacity building activities aimed at the development media literacy, critical thinking, data protection and safety, fact checking and etc.
Practical experience in fact-checking, debunking disinformation, and teaching media literacy.
Required documentation and application procedures
Interested individuals/experts/companies with required qualification should submit their proposal/application by January 20, 2022.
The proposal/application should include:
Financial proposal.
Proposal, including educational resources curricula concept, as well as tools and techniques to be applied.
CV(s) outlining previous qualifications.
Portfolio of past services and experience.
If you have any questions on preparation of the Proposal, please contact Seda Muradyan at [email protected]
Please send your application packages to [email protected], subject line: "MILA Curricula Development Proposal – NAME SURNAME"
This project is funded through a Department of State Public Diplomacy Section grant.
About the Public Journalism Club
The Public Journalism Club is an Armenian NGO and the representative of the Hacks/Hackers organization functioning in the US. Our mission is to promote freedom of speech, support diversity and diversity of views in Armenia by developing bridges between participatory and public journalists, civil and professional media journalists, news agencies, information technology social network specialists and experts of informational and social disciplines in general. Our platforms are aimed at changing the common trend of information consumption and give everyone a possibility to be an active contributor.