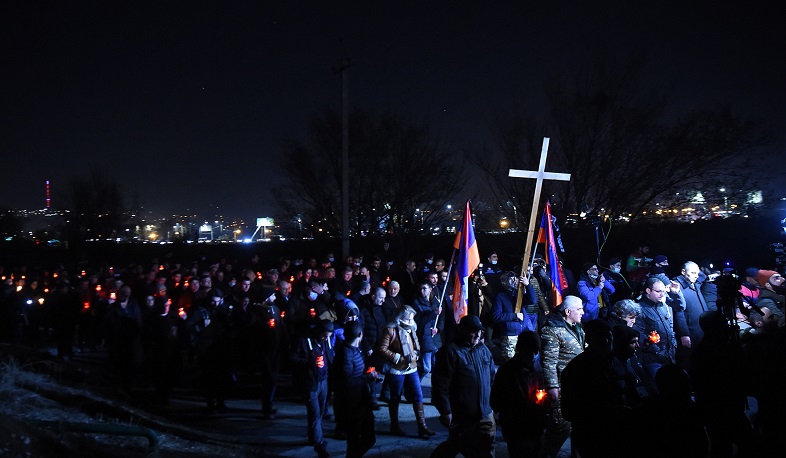 Statement on the Incident during Mourning Ceremony in Yerevan's "Yerablur"
On December 19, during a mourning ceremony in Yerevan's "Yerablur" military pantheon to commemorate the soldiers who fell in Artsakh war, "Radio Liberty" cameraman Davit Harutyunyan, who was covering the event on the site, was physically assaulted. The citizens, who intended to prevent the entry of Prime Minister Nikol Pashinyan's supporters participating in the mourning march into "Yerablur" pantheon, shouted "Here is the "Azatutyun (Tr. – Radio Liberty)" and  attacked the cameraman, threw him onto the ground and hit him. On the same day, at the beginning of the mourning march, Lara Arakelyan, a journalist of "Channel 5" TV, was targeted in the Republic Square. First, the participants of the rally insulted and bullied him, then Andranik Kocharyan, a member of the "My Step" faction of the National Assembly, demonstrated a discriminatory attitude towards the media outlet. Refusing to answer Lara Arakelyan's questions, the MP stated that he was ready to give an interview to any media outlet present, except "Channel 5".
Today, too, in Syunik marz, namely, on the way to Goris, the citizens made obscene remarks, addressed at the "Radio Liberty" correspondent Robert Zargaryan, who was covering Prime Minister Nikol Pashinyan's visit, and tried to hinder his work.
We, the undersigned organizations, condemn the unacceptable actions taken against journalists. These incidents clearly reflect the extreme polarization within the society and the  poisonous atmosphere of hatred. The fact that the media is divided into political camps does not contribute to the improvement of the situation. However, the only way of promoting socio-political stability in the country is through the establishment of tolerance, the cultivation of an environment where different opinions are tolerated and a constructive debate takes place. And all this must be proven, first of all, with a reserved and respectful attitude to the representatives of the media.
We are convinced that the current situation cannot be overcome if the perpetrators of harassment against journalists remain unpunished. By the way, the guilty of similar actions have not been punished in any such case during the past year. And impunity, as it is known, gives birth to new violations.
Taking into account the above, we demand the following:
From the RA Police to identify those who obstructed the activities of media workers during the above-mentioned incidents and hold them accountable;
From political forces and their supporters to show restraint and tolerance towards any media outlet, regardless of its political orientation.
COMMITTEE TO PROTECT FREEDOM OF EXPRESSION
YEREVAN PRESS CLUB
MEDIA INITIATIVES CENTER
JOURNALISTS' CLUB "ASPAREZ"
FREEDOM OF INFORMATION CENTER
MEDIA DIVERSITY INSTITUTE – ARMENIA
PUBLIC JOURNALISM CLUB
"JOURNALISTS FOR THE FUTURE" NGO
"JOURNALISTS FOR HUMAN RIGHTS" NGO
GORIS PRESS CLUB