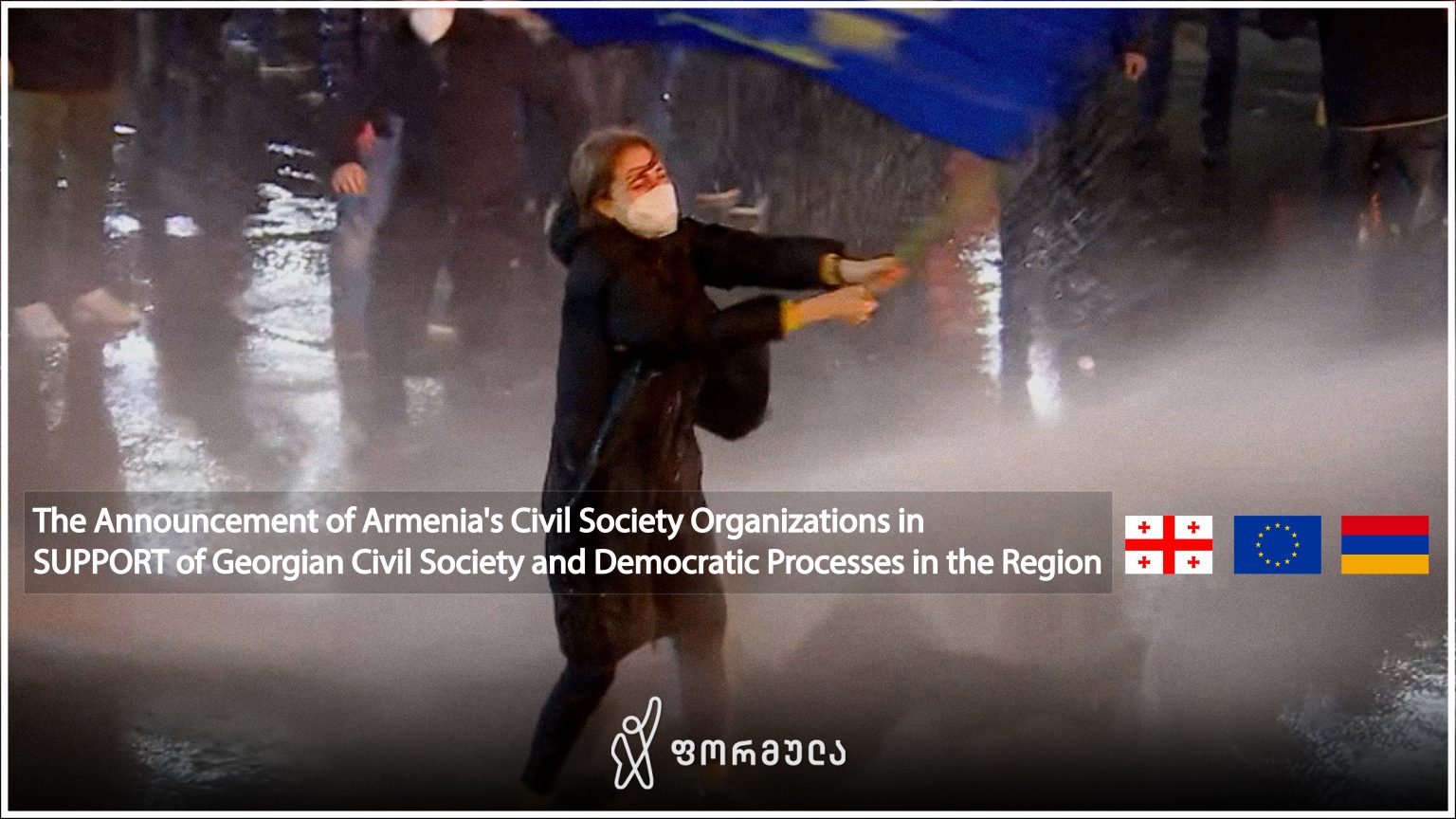 The Announcement of Armenia's Civil Society Organizations in Support of Georgian Civil Society and Democratic Processes in the Region
On March 7 of this year, a large-scale peaceful protest action was held in Tbilisi, the capital of Georgia, against the adoption of the so-called "Russian law". Despite the negative assessment of that law by a number of international organizations and the civil society of the neighboring country, the Georgian parliament, nevertheless, adopted the controversial law "on foreign agents" on first reading.
The police in Tbilisi used disproportionate brute force, tear gas, and water cannons against the participants of the peaceful protest action that took place yesterday in order to disperse the participants of the peaceful demonstration taking place in front of the parliament. As a result of the disproportionate brutal force used by the police, many citizens, students, and young people were injured.
According to the authors of the Law on "Foreign Agents", it is supposed to call "foreign agents" to all those non-business legal entities and media, all those non-entrepreneurial legal entities whose incomes are financed from abroad for more than 20 percent. This problematic law "On Foreign Agents", passed on first reading yesterday, essentially labels organizations, groups, and individuals carrying out independent activities in the fields of human rights, democracy, media, and other fields in a negative sense. Limits their Constitutional rights, activities, and creates false narratives in public perceptions regarding the activities of democratic-civil society, accusing them of serving other states.
We consider unacceptable and reprehensible the similar oppression of people's free will and right to hold peaceful assemblies and democratic processes in the neighboring fraternal country.
At the same time, we express our solidarity and support to our colleagues, organizations, and individuals in Georgia who are fighting for freedom, democracy, and the European path established by the Constitution in their country.
Also, we emphasize that the adoption of such a controversial law in neighboring Georgia will greatly harm the development of the civil society of that country, human rights and freedoms, as well as, in general, the democratic processes in the region, of which the Republic of Georgia is one of the frontiers, represented by its civil society.
We, the undersigned organizations of the civil society of the Republic of Armenia, express our solidarity with all partner organizations and individuals who are fighting for democracy, freedom, and human rights and the path chosen by the people in neighboring fraternal Georgia.
—
Public Journalism Club
"Restart Gyumri" Initiative Center NGO
Student Council of Shirak State University
Youth Union of Gyumri
Centre for Community Mobilization and Support NGO
Union of Informed Citizens
"EcoLur" Informational NGO
Human Rights Power NGO
Gayane Shagoyan, public figure, ethnographer
Vasiliy Maslov, Russian opposition artist
"For Equal Rights" Educational Center NGO
Pink Armenia Human Rights NGO
Free Citizen Civic Initiatives Support Center NGO
"Peace Dialogue" NGO
Committee to Protect Freedom of Expression
Law Development and Protection Foundation
This announcement is open to all who want to join.