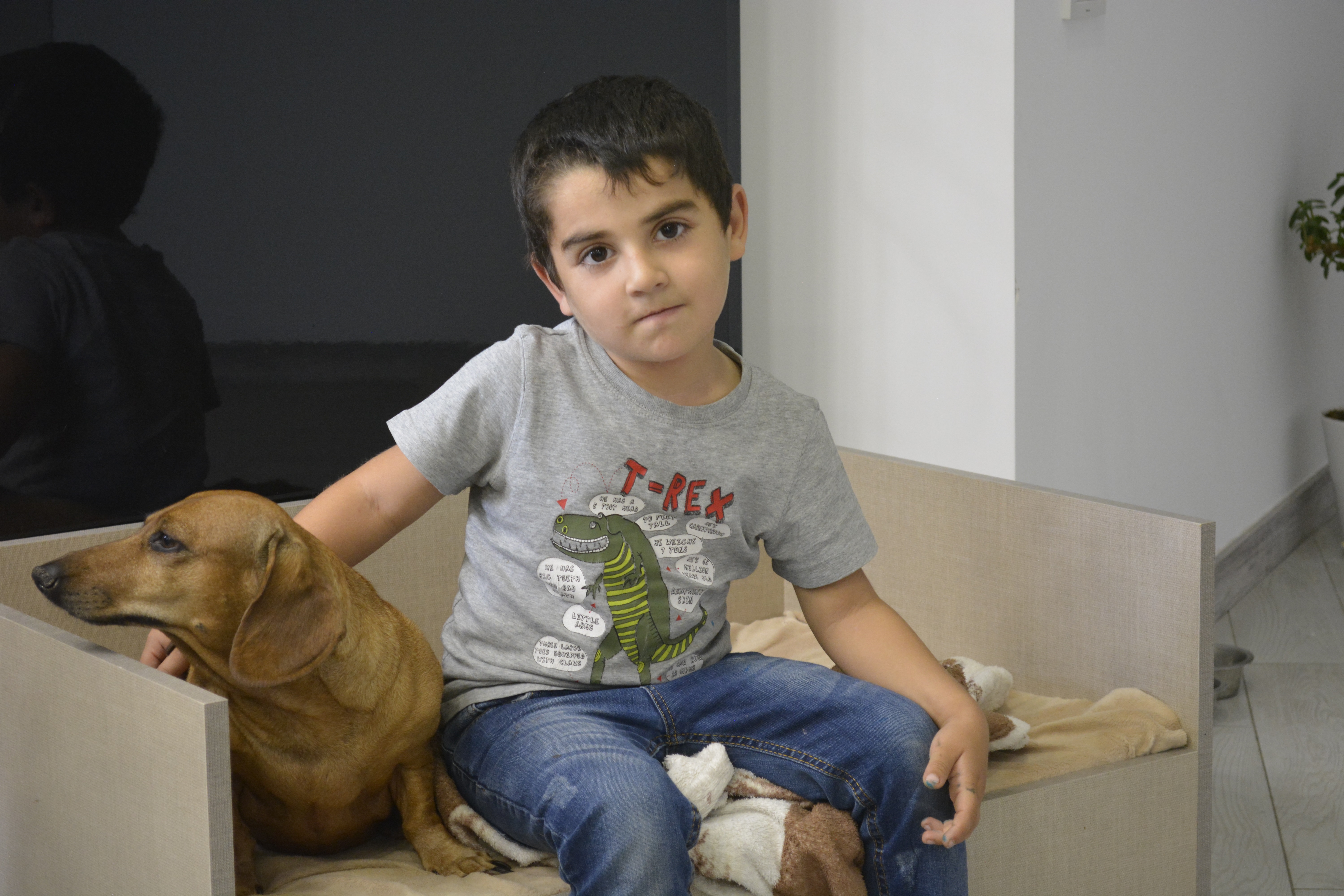 Yerevan is a nice city, but I wish to return to Martakert
October 9, 2020
Category: News
Reporter: Sofi Tovmasyan
5-year-old Norayr, a resident of Martakert, is looking at the views of Yerevan from a balcony of Raya Hovhannisyan's apartment. It has been four days that he was forced to leave his hometown and relocate in Yerevan for safety reasons.
I am trying to make him talk about his impressions regarding new city that he explores every day.
He is not talkative at all: he is looking, smiling and responding to my question if he likes it here, in Yerevan, with a positive head sign. But he says, I want to be back to my hometown.
This lively boy is having a crunchy apple with a big appetite, caressing Lucky, the landlady's dog.
Suddenly Norayr shows me his drawing: he explains that it is a destroyed by bombing shop next to their house in Martaktert.
Norayr's Mom, Luiza Mkoyan, says that they woke up in the morning to the sound of an explosion. She thought the windows were moving, it felt like an earthquake, but after phoning the neighbors, she found out that an attack and war had started.
Luisa says that right after this incident their young male neighbours made coffee and they all had it at their backyard.  They were making each other comfortable, saying that everything will be okay but suddenly they a building not far from their got bombed too.
That's when they decided to go leave for a safer place. First they left for Stepanakert, then for Shushi and finally moved to Yerevan with her two daughters and son Norayr.  Her husband is in Martakert.
81-year-old Rima Beklaryan, a resident of Martakert, moved to Yerevan with them, they met each other in Stepanakert. They all are hosted by a Yerevan resident Raya Hovhannisyan.
Rima is a double victim: "In 1988 we fled from Mingecevir (Azerbaijan) because we were Armenians.  We fled again in 2016, because Azerbaijan started April war against us. We, civilians, are forced to find safer place now, in 2020, again, because of Azerbaijan."
Their hostess Raya's 22-year-old son is protecting Armenia's borders as a soldier. She is worried, but confident that everything will end successfully.
While we are talking, the children continue drawing. 13-year-old Elina is drawing a tank with the Armenian tricolor flag. These days, all her paintings are about the army. I ask, have you ever seen a tank in your life? She replied that she has seen tank once in her life, it was when she came to Yerevan from Shushi.
11-year-old Meline is painting the buildings of Martakert. And 9-year-old Zhora is painting a cross. I ask why cross? He smiles, then responds that he is painting it for solidarity.
A little later, at my request, Raya and Meline show me the bedrooms where they sleep. Meline hugs Mrs. Raya then half cheerfully and half surprised says that " Mrs. Raya is the hostess, but she sleeps on the sofa, we sleep in the bedrooms."
They offered me a cup of coffee. Meline immediately got up to help Raya. They have made a clear division of household chores. Meline's responsibilities are to greet guests and to make coffee just like at home in Martakert.
Raya Hovhannisyan says if they live together for a while, she will learn the dialect of Artsakh by heart. She strongly wants everything to end soon and people to go back their homes and to live in peace.