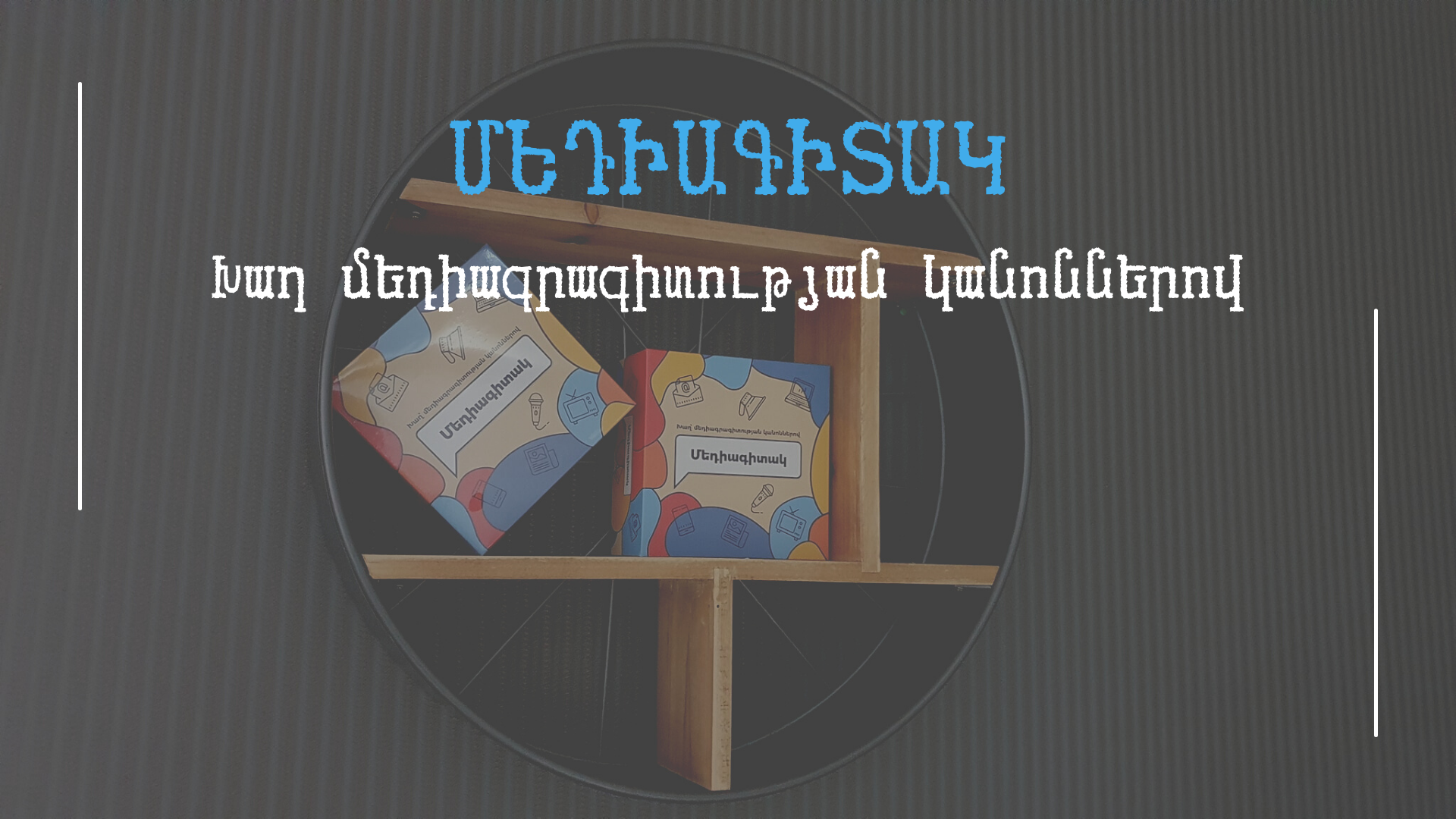 MediaGitak
June 1, 2022
Category: News
The Public Journalism Club has created an exclusive product that will promote adult media literacy.
In the modern world, media literacy is one of the key components of literacy. The development, diversification, and accessibility of media make the teaching of media literacy a priority, one of the effective ways of which is learning through games.
The goal of the "MediaGitak" media literacy board game for adults is to stimulate the acquisition of systematic knowledge about media literacy, the development of skills, and change of behavior. The game's main goal is to contribute to the development of adult media literacy and critical thinking.
When you open the game box, you will find diverse, interesting and intellectual tasks, which aim at developing your critical thinking and media literacy skills.
The board game consists of the following 4 tasks:
Library of tests,
Expert of questions,
The role of the title,
There is a clear goal for each task, which each participant should strive to achieve while playing the game.
For instance, the goal of the "Library of tests" task is to give additional knowledge in the field of media literacy.
"Expert of questions" will help to stimulate the participant's critical thinking, the ability to analyze information through questions, and to come to a logical conclusion.
Due to the "The role of title" task, the participants will learn to read the footnotes of the titles, they will become more careful towards shocking, dubious titles.
The "Infocard" tasks will help the players will be introduced to the vocabulary used in the field of media and online platforms.
In order to play the game correctly and understand the logic of the game, the booklet interpreting the rules of the game will be of help, where you will find the complete description of the game.
Mediagitak is a game that can become an integral and favorite part of the family, friends, or social gatherings, it will give an opportunity to combine pleasant entertainment with education.
The board game was produced by AYLKERP company which was selected through an open competition to provide game development and printing services.
The game is available in Armenian only.
The board game is implemented by the Institute for International Cooperation of the German Adult Education Association (DVV International) in cooperation with, the Public journalism club, with the financial support of the Federal Foreign Office of Germany.