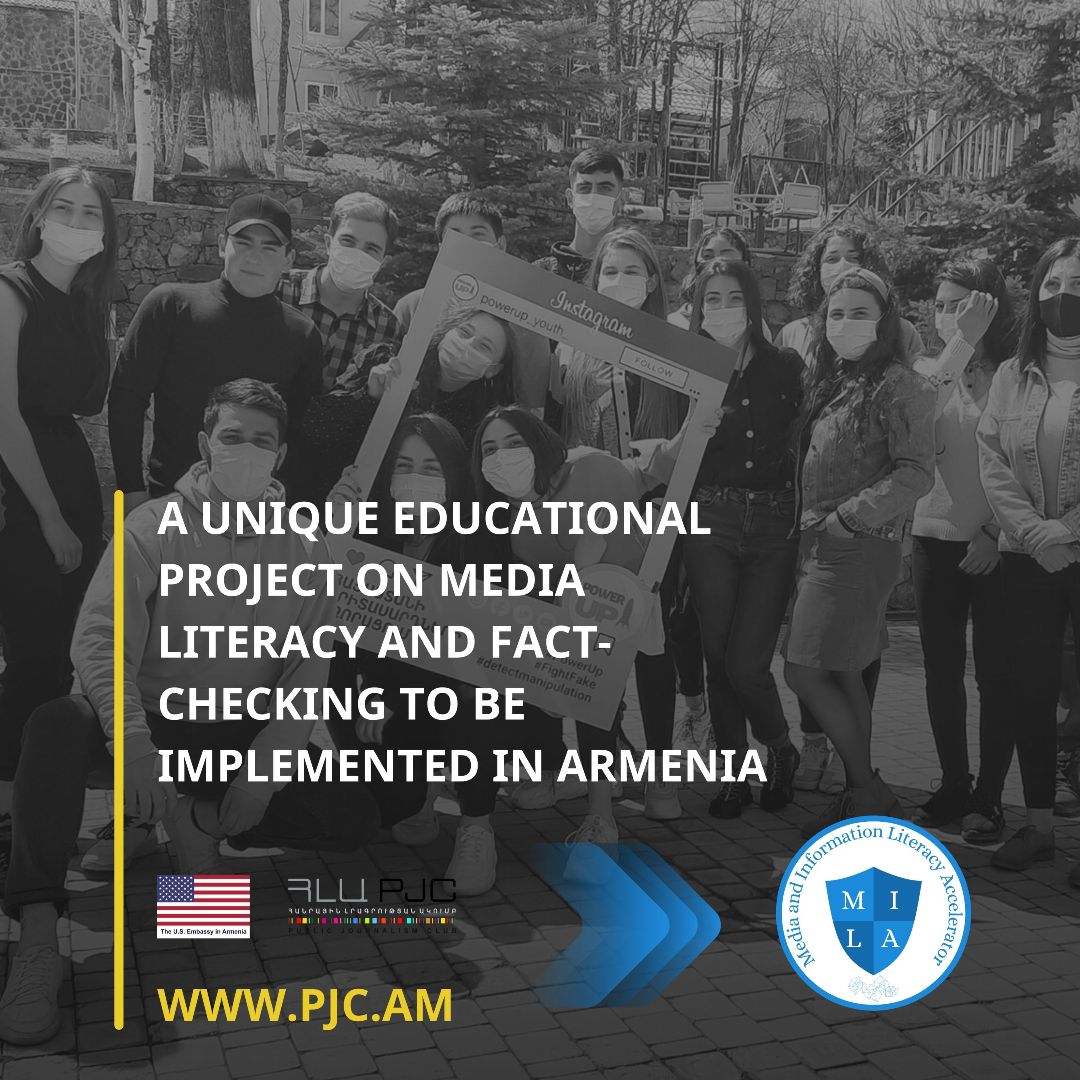 A Unique Educational Project on Media Literacy and Fact-checking to be implemented in Armenia
May 27, 2022
Category: News
The Public Journalism Club (PJC) envisages to create a media and information literacy accelerator – a unique educational project on media literacy and fact-checking, with the support of U.S. Embassy Yerevan's Public Diplomacy Section.  As a continuation of its mission to build a media-literate society, to fight against disinformation and circulation of fake news, as well as to foster the progress of media and information literacy in Armenia, PJC intends to implement a research and education-focused program that will benefit the employees of media outlets operating in Armenia. Within the program, local and foreign experts will conduct trainings, a digital tool for fact-checking will be designed and launched, and an innovative Hackathon contest focusing on media and information literacy will be organized.
With the increase in the number of media outlets in Armenia, the level of disinformation has expanded.  Fake news and harmful propaganda disseminated by internal and external sources pose a serious threat to society.  Therefore, it is necessary to establish tools to develop the skills of Armenian media workers, especially in regions outside of Yerevan, in media literacy, fact-checking, and misinformation, addressing a pressing need of the media sector and contributing to the establishment of a media-literate society.
These issues will be on the focus of the Media and Information Literacy Accelerator (MILA) project, within which master classes for regional youth, an innovative Hackathon contest with the participation of IT, media specialists, and an international conference dedicated to combatting disinformation, and harmful propaganda will be organized. After successfully completing the course, the beneficiaries of the educational program will have an opportunity to apply for sub-project funding and implement a project focusing on media literacy, fact checking and related topics.
As part of the project, 36 media workers from Armenia will participate in six follow-on projects on media literacy, fact-checking, and countering disinformation. In addition, 100 young people from five regions of Armenia will undertake master classes on media literacy, and three startup projects will be selected as a result of the Hackathon. The project will be summed-up with an international conference, during which Armenian and foreign experts will share their experience on countering disinformation, propaganda, and will present their successful formulas. 
"Media literacy and critical thinking play the role of "airbags" in protecting against disinformation, both for the individual and the general public. Targeted work with different groups of the public, promoting media literacy and critical thinking will increase the number of people who can be even more protected from the manipulation, disinformation and misleading content that can be accessed by everyone today, from the youngest to the oldest," Seda Muradyan, the President of Public Journalism Club, notes.
"The availability and ease of spreading of information, misinformation, and disinformation on the Internet and through social media has placed new emphasis on the ability to evaluate the quality and accuracy of different news sources. Promoting media literacy and critical thinking is a key component to building a resilient, digitally responsible society resistant to manipulation," Lia Miller, the Public Affairs Officer at the U.S. Embassy, says.
This project is funded through a Department of State Public Diplomacy Section grant.