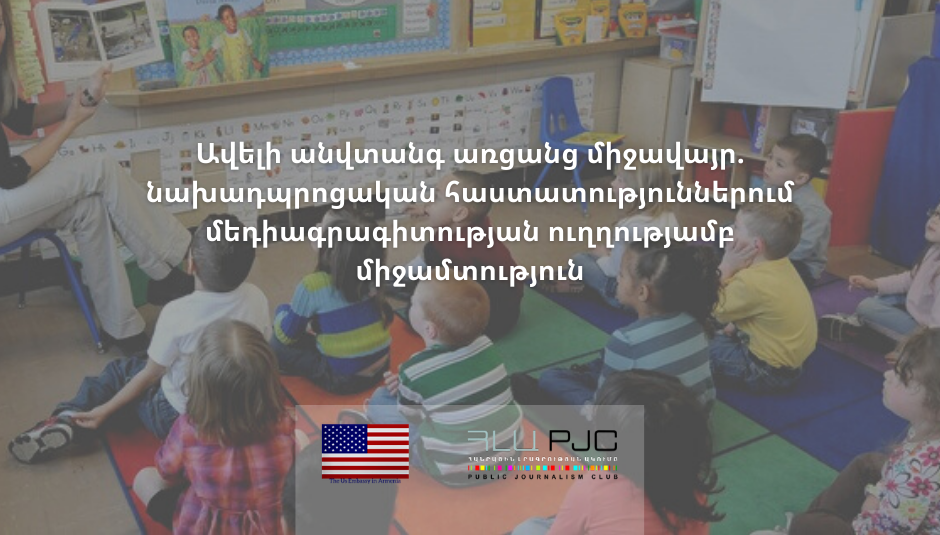 Acting for Safer Online Environment: Information Literacy Intervention for Preschools
August 27, 2020
Category: News
Taking into account the important role of media literacy and the need for capacity development in that field among different age groups in society, "Public Journalism Club" NGO will launch the "Acting for Safer Online Environment: information literacy intervention for preschools" project in September 2020.
The purpose of the project is to promote media and information literacy in Armenia in preschool education and advocate for the integration of these concepts in the national educational strategy and curricula through a series of actions aimed at inspiring, educating, training and motivating key stakeholders.
"Society, the individual citizen are better protected from the challenges and dangers of the digital world when the level of media literacy is high and critical thinking is active," Seda Muradyan, President of Public Journalism Club, says.
"The bases of media literacy and critical thinking must be laid from an early age; in many developed countries realizing the current challenges, those bases are embedded in the education system and national strategies. Our goal is to explore preschool curricula and find opportunities to propose media literacy content appropriate for 4-6 year olds, supporting teachers to deliver them in innovative ways."
This multi-component project will provide an opportunity to conduct expert research, to submit policy proposals for integrating media literacy into preschool curricula, to train preschool teachers, and to prepare relevant materials for preschoolers and educators.
"Media literacy is a critical skill in today's world where disinformation is so easily spread through social networks as well as the media," said U.S. Embassy representative Kelli Long. "The U.S. government is committed to combating mis- and disinformation globally and we are proud to support this innovative program here in Armenia."
The project will be as inclusive as possible, will combine the American, Finnish and Armenian expert potential, will target and involve representatives of the field, officials, parents, beneficiaries and decision-makers at different stages.
For details about the project, you can contact Public Journalism Club by phone: +374 12 755 898 or by e-mail: [email protected].
This project was funded by a grant from the US Department of State Public Affairs Office.