ASOE Acting for Safer Online Environment: information literacy intervention for preschools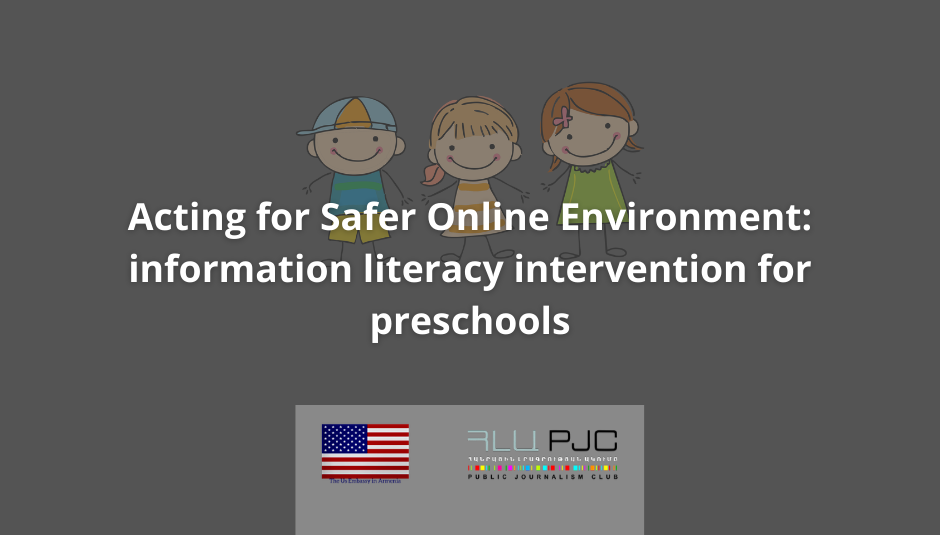 Title: ASOE – Acting for Safer Online Environment: information literacy intervention for preschools
Donor: US Embassy in Yerevan 
Implementation period: June 2020 – April 2021
Project budget: 42.790 USD.
The purpose of the project was:
To promote media and information literacy in Armenia in preschool education and advocate for the integration of these concepts in the national educational strategy and curricula through a series of actions aimed at inspiring, educating, training and motivating key stakeholders.
The project was focused on the early childhood and preschool educational programs and supported teachers and parents in the development of their skills to enable them to address the tough challenges of misinformation and disinformation.
Objectives and Expected Outcomes were:
a) to study the national educational curricula and find out possibilities for interventions and improvement of information and media literacy education in preschools of Armenia with the support of local, S. and Finnish experts
b) to provide high quality materials on media and information literacy in Armenian with a focus on pre-schools, including through the translation and publication of internationally renowned thematic story books into Armenian
c) to help teachers develop their capacity in teaching media and information literacy skills.
Other Projects
Project Title: Support to the Armenia-Turkey Normalization Process: Rapid Response (ATNP Rapid Response) Donor Organization: European Union Lead Organization: Eurasia Partnership Foundation (EPF) Implementor Organizations: The Consortium partners include Civilitas Foundation (CF), Eurasia Partnership Foundation (EPF), Public Journalism Club (PJC), Regional Studies Center (RSC) from Armenia; and Anadolu Kültür, the Economic Policy Research Foundation of Turkey (TEPAV), Helsinki Citizens' Assembly (HCA), and Hrant Dink Foundation from Turkey. PJC Collaboration: Public