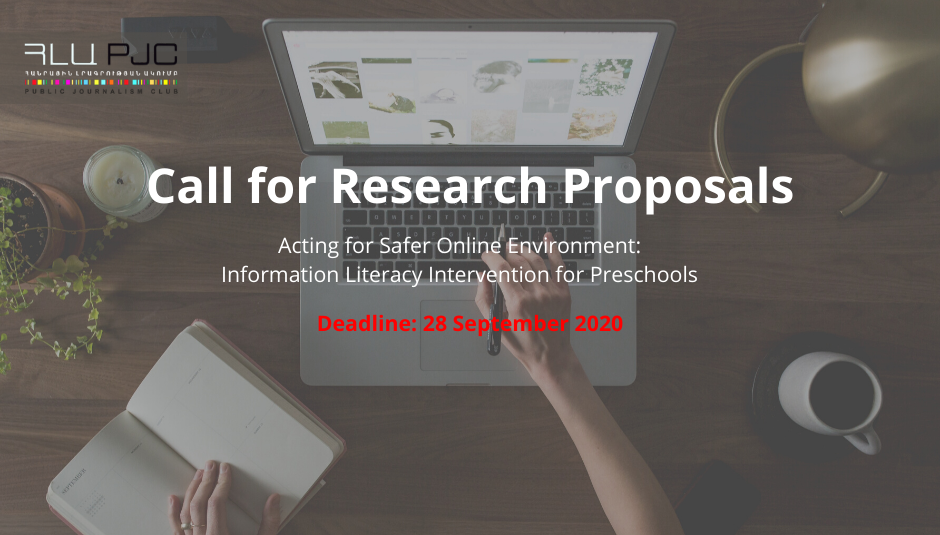 Call for Research Proposals

 Acting for Safer Online Environment: information literacy intervention for preschools
Deadline: 15 October 2020, 6pm.
The "Public Journalism Club" (PJC) NGO announces Call for Research Proposals to conduct a research study on pre-school state educational programs, educational-methodological manuals, as well as state educational standards in Armenia.
The Call is an action that is part of  PJC's "Acting for Safer Online Environment: information literacy intervention for preschools" pilot project.
The research aims to identify the gaps of critical thinking development and media literacy in preschool educational state programs, methodological manuals, state educational standards designed for children aged 4-6, and to reveal opportunities to include critical thinking and media literacy interventions, in the above mentioned programs and educational materials.
Elegibility
The Call is open to independent researchers, university lecturers, research organizations, media literacy, digital security and education experts, analysts, and advisers. Higher education and research experience is required. Applications are accepted from individual authors or groups of two co-authors.
Application Procedures
Interested applicants should submit their application for research proposals, including the following,
Problem description
Research methodology
Expected results
Expected results
Applicants are expected to study the state programs covering preschools in the Republic of Armenia for the age group of 4 – 6, educational- methodological materials, standards, as well as to conduct interviews with at least 30 education and media experts, directors, teachers of state preschools of Yerevan and regions.
It is expected to identify and conceptualise specific problem/situation, to analyze and provide policy and methodological recommendations, based on the best international experience.   The research results may include a brief description of the international successful experience of the educational strategy for the development of media literacy and critical thinking in the preschool education system, with relevant references to selected cases and examples. Researcher or research team is expected to devote time to working meetings and focus group discussions, as well as for the advocacy of research results. The researcher should provide the research based on the results of the analysis and focus group discussions. The results of the research are meant to be published and disseminated by PJC.
Budget
The research budget should not exceed 1.023.000 AMD (including taxes).
Date
The research is expected to be completed within three months.
Language
The language of the research is Armenian.
Application procedures and contacts
All interested applicants are required to fill the application form and send to [email protected]  address, as well as attache supporting documents: CV and sample/link to previously conducted research by 15 October 2020, 6pm.
Applicants will receive an electronic confirmation of application receipt to their email in a period
of two working days after submission. If you do not receive the letter, please contact us.
In case of any questions, you can contact us at [email protected], [email protected]. Applications received after the deadline will not be considered. Only shortlisted candidates will be contacted.
"Acting for Safer Online Environment: information literacy intervention for preschools" project is implemented with the support of the US Embassy in Yerevan. The opinions expressed herein are those of the author and do not necessarily reflect the views of the US Embassy.
The purpose of the project is to promote media and information literacy in Armenia in preschool education and advocate for the integration of these concepts in the national educational strategy and curricula through a series of actions aimed at inspiring, educating, training and motivating key stakeholders.
The project will focus on the early childhood and preschool educational programs and will support teachers and parents in the development of their skills to enable them to address the tough challenges of misinformation and disinformation.
_________________________
The mission of "Public Journalism Club" NGO is to promote freedom of expression, diversity and pluralism, build a  media literate society, facilitate the development of a stronger civil society and support processes aimed at the democratization of the region and establishment of a dialogue, mutual understanding and peace.
The vision is democratic Armenia which enjoys peace, welfare and active, well-educated and competitive civil society cooperating with mass media to become a real watchdog while state structures have transparent activities and accountability.