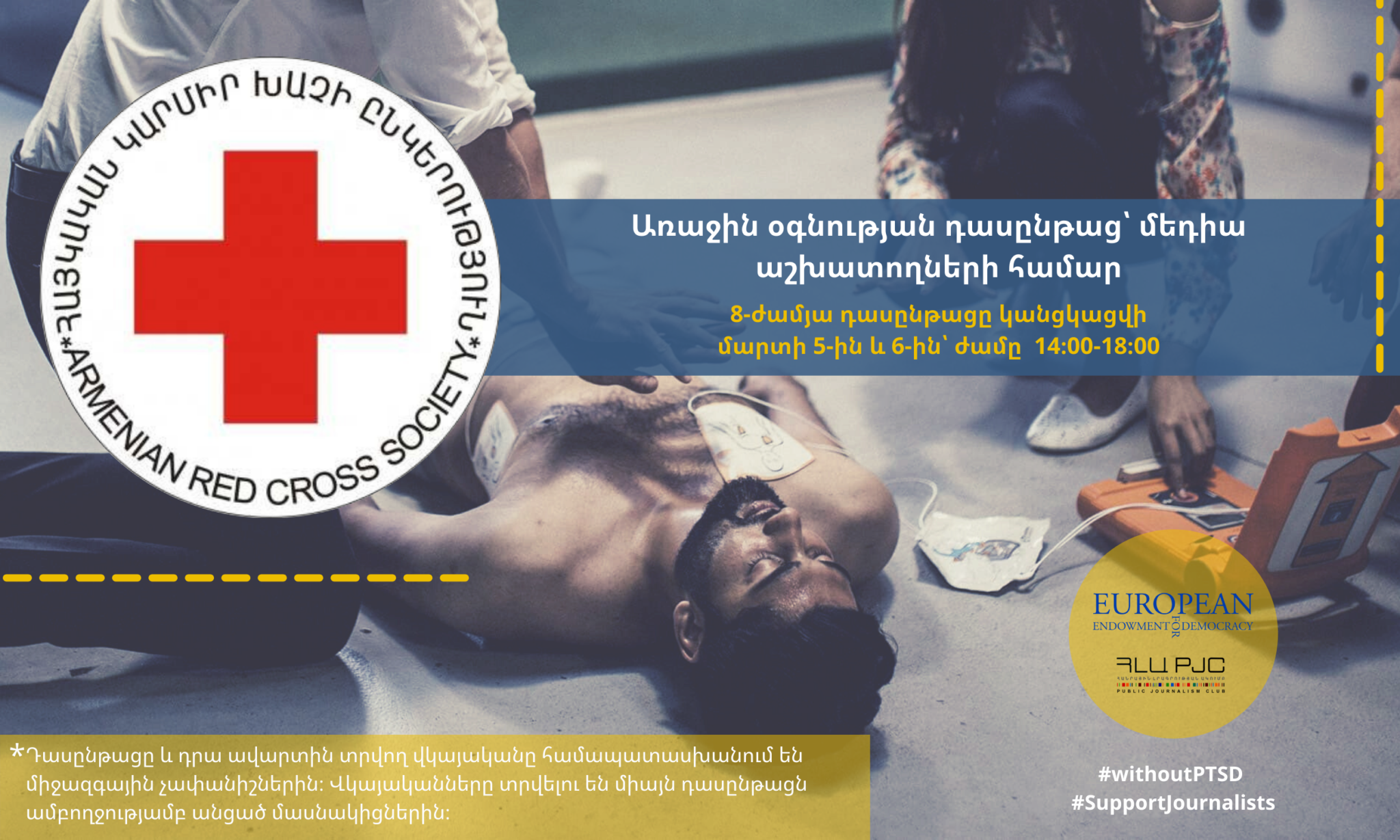 First Aid Training for Media Workers
For registration click here. 
We have all heard about the need for first aid but can we use the "golden hour" properly and provide that help in real life, in emergencies?
When did we try to test our abilities, when did we manage to use them in practice, to save lives?
Behavior displayed during emergencies can be trained.
We can save lives if we are properly trained and informed.
Knowledge of first aid saves lives.
The success of further medical care is conditioned by the correct provision of first aid.
Journalists, cameramen, photojournalists and other media workers working in the midst of crowded demonstrations, disaster and war zones are not protected by anything; microphone to help colleagues or other injured people who are injured.
Are you a media worker?
– How many times have you been intentionally or unintentionally targeted while covering demonstrations, natural disasters, war or other emergency situations?
– How many times have you managed to escape or avoid possible injuries?
– In case of injuries, have you always known what to do to help yourself or your colleagues?
– Did you know what to do when you see an unconscious person?
– How to properly bandage bleeding parts of the body?
– How to provide first aid in case of small number of equipment and accessories or their absence?
– How to develop a safer behavior?
The Public Journalism Club in cooperation with the Armenian Red Cross Society will hold an 8-hour first aid course for media workers on March 5 and 6 at 14:00.
Participation in the training is free, all expenses are covered by the Public Journalism Club. The first aid courses provided by the Red Cross are internationally certified, մասնակից the participants of this course will also be able to obtain an international first aid certificate. The places of the course participants are limited. Do not miss this opportunity.
———————————————
About the program: https://pjc.am/ajakcutyan-tsragir-media-olorti-hamar/The program will cover December 2020-2020 ․ May 31 period. The project is funded by the European Endowment for Democracy (EED).
In case of additional questions and/or for details, you can contact the Public Journalism Club NGO via the telephone numbers or e-mail mentioned below.
Saryan 12, 3rd floor, Yerevan, Armenia
Phone: +37412 755898, +37499 755 898
Email addresses: [email protected], [email protected]