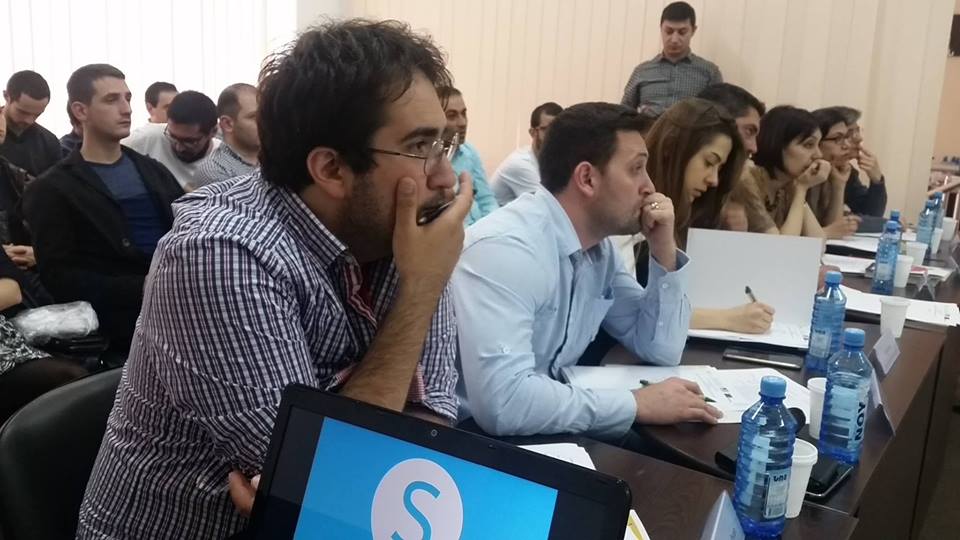 Four-day Training Course for Startup Teams from Armenia and Turkey was Launched in Yerevan
Yesterday a four-day training course in the framework of the Technology Goes Beyond Borders (TGBB) project kicked off in Yerevan. Fifteen young startup entrepreneurs from Armenia and Turkey are participating in this workshop.
In total, six startup teams are involved in the project-three from Turkey (Istanbul, Ankara) and three from Armenia (Yerevan, Gyumri). During a four day training course they will have different lectures and practical sessions on such topics as business success, business modeling, marketing, development of prototypes and others.
The young entrepreneurs will be guided by trainers and mentors to develop their ideas.
Clark Price, Charge d'Affaires of the U.S. Embassy in Armenia  was present at the launch of the training. He noted that the Armenia-Turkey Startup Weekend that was held last November was an astounding success.
"Technology industry has one with the biggest potential", the Charge noted. He emphasized that this initiative allows the participants to establish friendships and contacts, create new ideas and engage financing.
Andrej Didenko, Political Officer at Delegation of the European Union to Armenia also delivered opening remarks at the launch of the four day training course  under the "Technology Goes Beyond Borders"  project.
"We believe that ICT representatives from Armenia and Turkey will have good interactions, will improve their skills and establish more sustainable partnerships", said Mr. Didenko.   He also added that the EU was very much pleased by the outcomes of the Exchange of Entrepreneurs project implemented last November that surpassed the expectations. Over 70 ICT experts and entrepreneurs were involved at that stage of the project.
Technologies Goes Beyond Borders builds on the success of the Armenia-Turkey Startup Weekend  included in the InnoWeekend 2014 as part of the Exchange of Entrepreneurs project financed by the European Union within the framework of the programme Support to the Armenia-Turkey Normalisation Process.
Speaking about the expectations from the training, the TGBB trainer Emin Okutan (Turkey)  said that there should be consideration about how the proposed startup ideas create value for the consumers.
Ester Hakobyan, project co-organizer, senior project manager of Armenia-Turkey programs of the Public Journalism Club spoke about two important aspects of the project, i.e. industry to industry exchange between professionals and people to people interactions that will eventually contribute to stability and peace in the region.
"In addition to fulfilling their ideas, creating products, these teams will also ensure new jobs. They are the employers of the future", said Artashes Vardanyan,  head of the acceleration project of the Microsoft Innovation Center, TGBB co-organizer.
TGBB is implemented by the Microsoft Innovation Center and Public Journalism Club in collaboration with the Economic Policy Research Foundation of Turkey (TEPAV) with financial support from the U.S. Embassy in Armenia and co-funding from the European Union.