October 31, 2023
Category: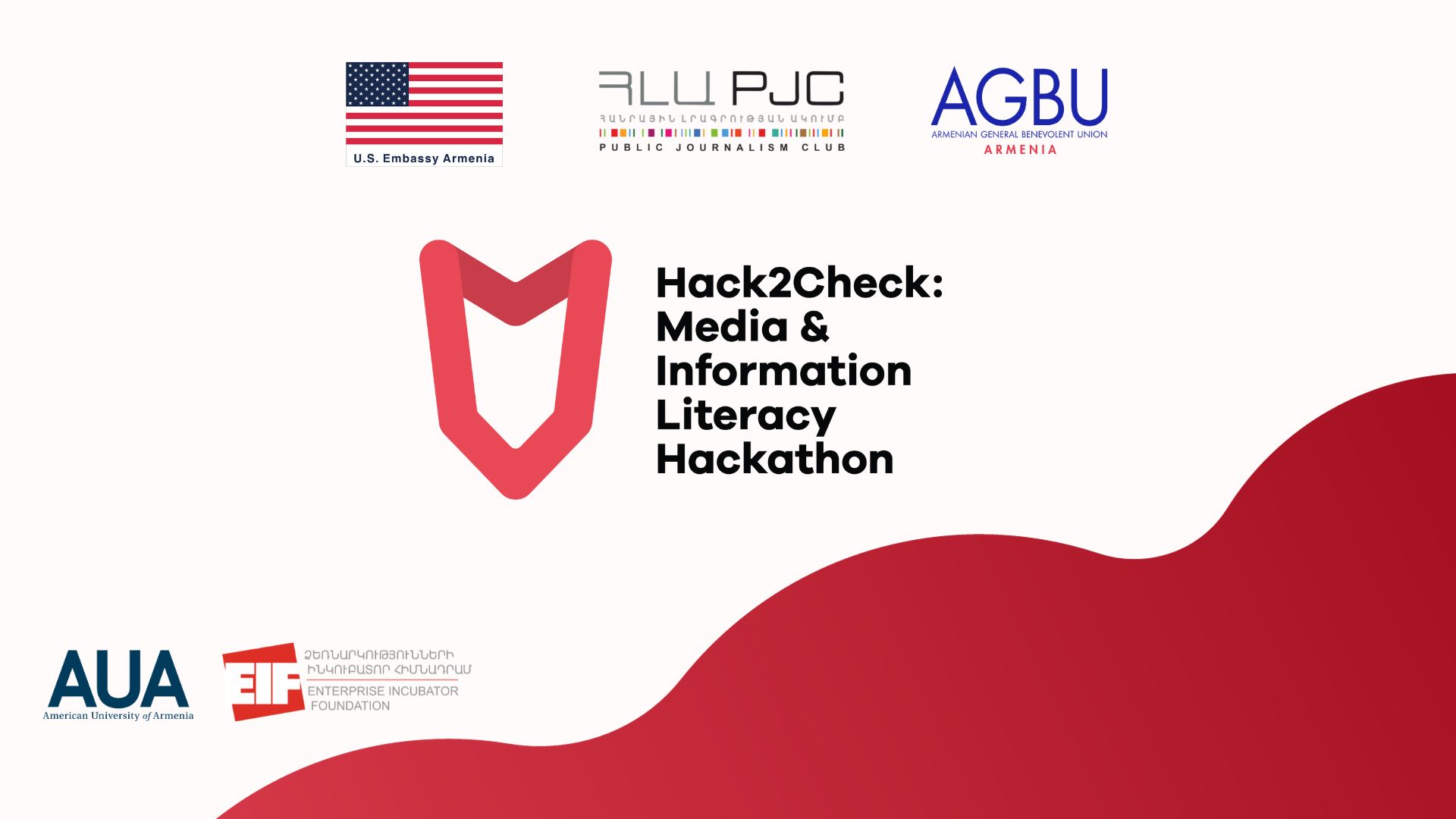 Project title: Hack2Check: Media and Information Literacy Hackathon
Project funding:  Public Diplomacy Section, U.S. Department of State 
Project implementer: Public Journalism Club (PJC) & Armenian General Benevolent Union (AGBU) Armenia
Project partners:  American University of Armenia (AUA), Enterprise Incubator Foundation (EIF) with its Gyumri and Vanadzor Technology Centers
Implementation period: October 2023 – August 2024
Budget: 70.000 USD
Project goal
The goal of the Hack2Check hackathon is to foster the development of innovative solutions to address media and information literacy (MIL) challenges and combat computational propaganda in Armenia. By engaging young people, tech specialists, media practitioners, and media literacy experts, the program aims to raise awareness, build capacity, and create effective solutions to promote critical thinking and resilience against propaganda.
Project objectives
The objectives of the program are:
Increase awareness among the target group in Armenia about propaganda and media literacy through participation in meetups and media campaigns.

Create innovative solutions to address propaganda and media literacy issues during the hackathon.

Develop successful solutions through post-hackathon mentorship support and consultation.

Increase the resilience of Armenian society to propaganda and disinformation through the adoption and implementation of effective solutions.
Project activities and results
Activity 1. Problem Identification 
An expert group will be formed to discuss emerging issues related to media literacy, fact checking and propaganda.
Experts will collectively identify and prioritize the most pressing challenges related to propaganda, fact checking and media literacy in Armenia․
Activity 2: Public Outreach and Communication
Four special outreach meetups will be organized in Yerevan, Gyumri, and Vanadzor, engaging local experts to present challenges Armenian society faces regarding propaganda and media literacy.
Activity 3: Hackathon and Post Hackathon Implementation
One hackathon event will be organized, lasting for two days, that brings together approximately 50 young Armenians, including university students, tech specialists, media practitioners, and media literacy experts. 
The hackathon will feature various activities such as at least two sessions on relevant topics conducted by US and local experts, mentorship, MIL game playing sessions. In addition, winners of the 2022 Media and Information Literacy hackathon organized by PJC will present their startup projects.
At the conclusion of the hackathon, a pitching ceremony will be organized, where teams will present their proposed solutions to a professional review panel. The proposed solutions will be evaluated, and the panel will select at least 3 winner teams to receive financial support and mentoring.
This project is funded by a grant from the United States Department of State. The opinions, findings and conclusions stated herein are those of the author[s] and do not necessarily reflect those of the United States Department of State.