December 7, 2022
Category: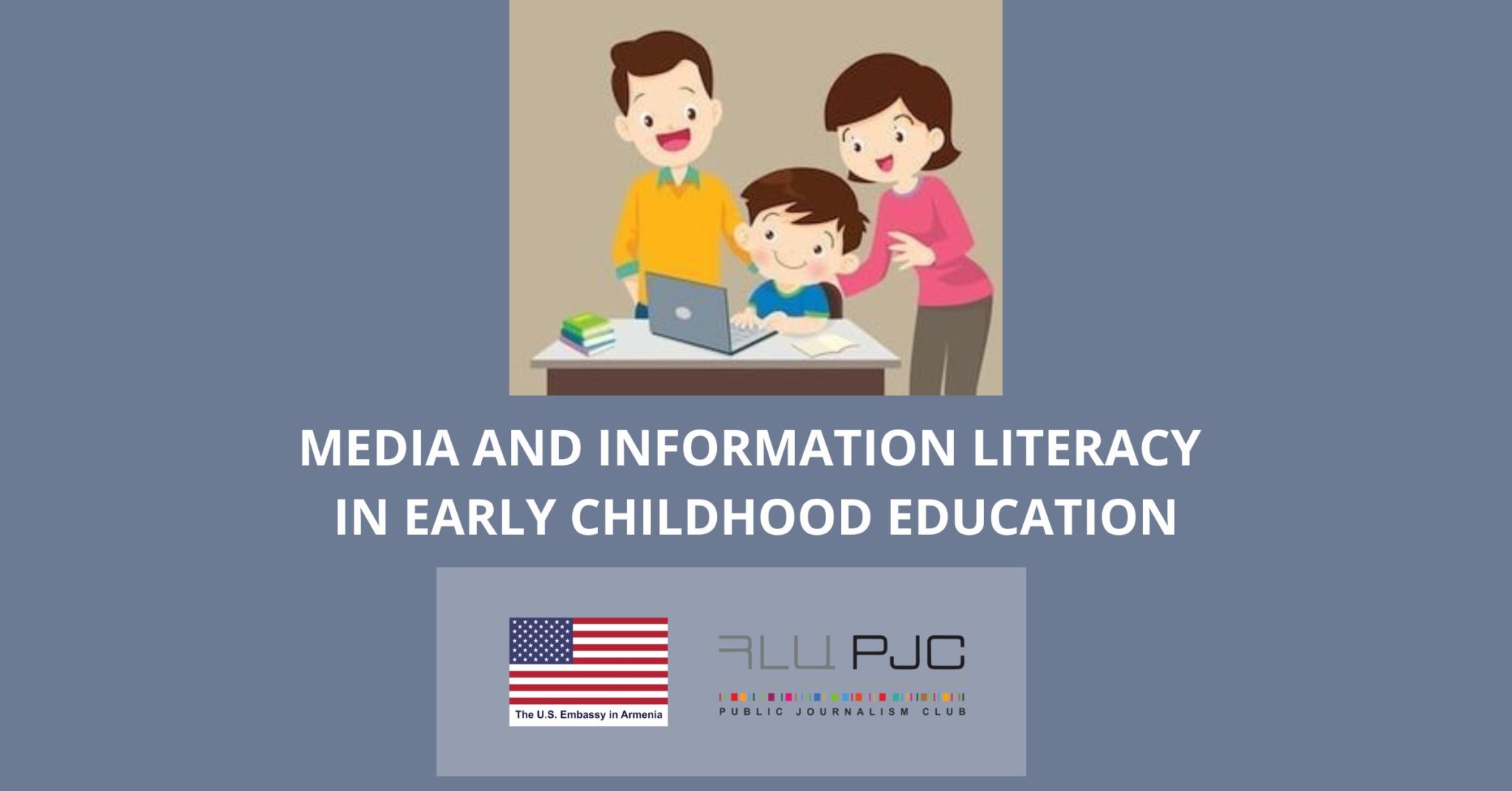 Project title: Media and Information Literacy in Early Childhood Education
Project funding: United States Department of State
Project implementer: Public Journalism Club (PJC)  
Project partners: "Step by Step" Foundation (SBS), Teaching Academy company, "National Center for Education Development and Innovation" Foundation, "Heqiateren" interactive theater
Implementation period: October 2022 – October 2023
Budget: 50․000 USD
Project goal
The project goal is to better equip Armenian educators with media and information literacy concepts and skills, to enhance their digital safety skills, to help them in better understanding of personal data protection and to achieve MIL resources and teaching plans developed within the project to be integrated into the preschool system.
The ultimate goal of the project is to achieve the expansion of media literate educators in Armenia, multiplying their knowledge and skills among their colleagues and students of the preschool system for building a disinformation resilient society.
In addition, if MIL and critical thinking is integrated into preschool system, Armenian preschool children, parents will be better equipped with necessary MIL skills and critical thinking, thus, better protected against malign influence in the media and information space.
Project objectives
Capacity building of educators in MIL.
Capacity building of educators in teaching MIL.
Development of educational resources (ex. thematic units, teaching methodology, teaching plans etc.) for teachers of preschool institutions.
Introduction of creative storytelling techniques through "Heqiateren" interactive performances of "Chicken Clicking" and "The Stolen Sun" in the preschools located in Yerevan and in the regions of Armenia.
Awareness building of MIL importance and developing existing professional cooperation with state agencies for reaching out more beneficiaries and for promoting MIL education in preschool educational programs.
Establishing connections between preschool and primary school MIL programs, testing resources developed for preschool with primary school teachers, for engaging them into conversations on MIL and building new concepts for future projects.
Project activities and results
Activity 1:  Media literacy capacity building of preschool educators. PJC, together with the U.S, as well as local experts will conduct MIL capacity building seminars and webinars of preschool teachers and managers. In total, 6 webinars will be conducted by local and 2 webinars by international trainers, for 400 preschool teachers. It is expected to have an average 40-50 participants in each webinar.
Activity 2:  Capacity building of educators in teaching MIL. ASPU experts and SBS Foundation will design 6 TOT webinars and 2 TOT seminars to build capacities of educators in teaching MIL at preschool level. 2 seminars will be organized, each of 2 days for preschool educators, selected from webinars. 15 teachers will take part in the seminars, while 6 webinars will accommodate more participants, will be open for up to 25. Webinars will also engage elementary school teachers as observers, for getting feedback from teachers at elementary schools regarding TOT, regarding educational resources, as well as to boost interest among this community towards media literacy.
Activity 3: Development and publication of teaching resources and thematic units for teachers of pre-school institutions. The teaching resources will be based on children's stories that are used in preschool programs, familiar to children and teachers. In total, three types of resources will be produced: In total, two package educational resources for teaching will be developed, each minimum of 20 pages, in addition to books that will be published. The materials will be distributed to target groups, such as preschool and elementary school teachers.
Activity 4: Publishing MIL story books for children wider distribution in the regions of Armenia. Development of MIL explanatory step by step guidelines for parents, that will present basic principles of MIL, explain terminology and provide tips for digital safety.
Activity 5. Creative storytelling techniques through "Heqiateren" interactive performances of "Chicken Clicking" and "The Stolen Sun" stories in preschools located in Yerevan and in the regions of Armenia.