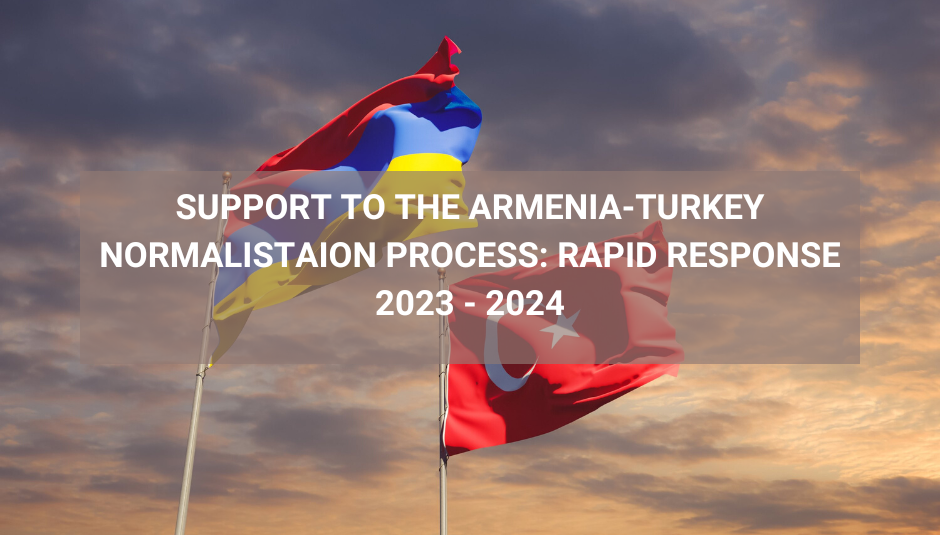 Project Title: Support to the Armenia-Turkey Normalization Process: Rapid Response (ATNP Rapid Response)
Donor Organization: European Union
Lead Organization: Eurasia Partnership Foundation (EPF)
Implementor Organizations: The Consortium partners include Civilitas Foundation (CF), Eurasia Partnership Foundation (EPF), Public Journalism Club (PJC), Regional Studies Center (RSC) from Armenia; and Anadolu Kültür, the Economic Policy Research Foundation of Turkey (TEPAV), Helsinki Citizens' Assembly (HCA), and Hrant Dink Foundation from Turkey.
PJC Collaboration: Public Journalism Club and Economic Policy Research Foundation of Turkey
Project Location: Armenia and Turkey
Project Duration: 24 months (01/01/2023 – 12/31/2024)
Project Budget: 1,689,884 EUR
PJC Component Budget: 47,507 EUR
Project Goal:  The Overall Objective of the project is to prepare a fertile ground for bolder political developments and larger-scale interventions that will contribute to the opening of the Armenia-Turkey land border and establishment of diplomatic relations between the two countries.
The project aims: A) to enlarge the ranks of supporters of the Armenia-Turkey dialogue and normalization through building-up on long-term cooperation with existing partners and engaging new actors in the dialogue process; B) to explore and map multi-dimensional interventions in support of Armenia-Turkey normalization through effective engagement with local state and non-state stakeholders, as well as with international actors.
PJC Component Objectives:
Restart a dialogue and networking between social entrepreneurs from Armenia and Turkey.
Promote the importance of social impact measurement as a tool for an effective SE ecosystem.
Understand the narratives existing in online media as well in local communities on both sides of the border around Armenia-Turkey normalization process.
Improve the capacity of civil society actors and media to debunk the narratives on Armenia-Turkey relations that are based on disinformation and manipulation.
Improve communication strategies of actors involved in Armenia-Turkey normalization.
Project Beneficiaries: Social Entrepreneurs form Armenia and Turkey, CSO and media representatives from Armenia and Turkey, Communication experts from both sides and CSO fields.