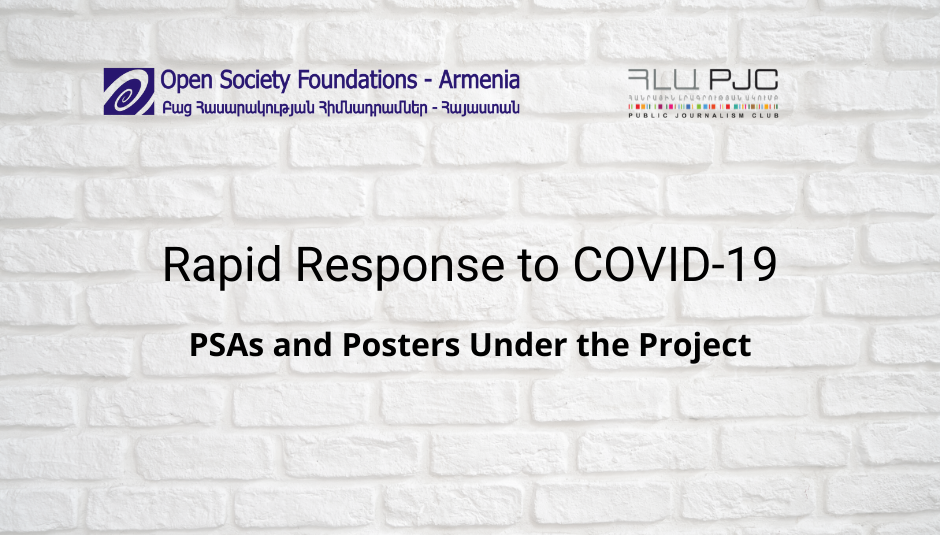 PSAs and Posters under the Project "Rapid Response to COVID-19"
May 23, 2020
Category: News
In the context of the state of emergency evolved by the new coronavirus pandemic, the Public Journalism Club initiated the "Rapid Response to COVID-19" project with the support of Open Society Foundations – Armenia.
The project aims to promote public awareness in the new situation, targeting public health, social responsibility, human rights, civic responsibility, state-community cooperation, and more.
PJC has developed several ways to raise public awareness. Within the project of "Rapid Response to COVID-19", various types of media products have been created: webinars, discussions, posters, social media challenges, public service announcements (PSA).
13 PSAs have been created. Many actors, singers, human rights activists, doctors, children, students took part in the process of creating the videos, increasing the social role and impact of those PSAs with their contribution. PJC also paid special attention to maintaining the principle of inclusion and provided a translation into sign language in PSAs.
Awareness posters manifest the advice to the public to refrain from coronavirus, such as "Stay home", "Don't kiss", "Let's take care of each other". 
The list of PSAs and posters is below: