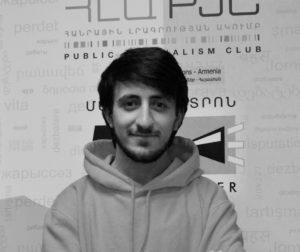 Alexander Martirosyan has joined the PJC team since 2020.
Since 2011, he has been involved in the programs of the Eurasia Partnership Foundation, and from 2018 to 2019, he worked in the EPF office. Alexander has 8 years of experience in the public sphere, worked at the Armenian Center for Human Rights after AD Sakharov as a media communications expert, was involved in media promotion, created blogs and websites, and worked at the KAZA Swiss Humanitarian Foundation. He worked at the UN Armenian Association as a media and oral communication expert, coordinator of a program.
Alexander is a journalist by profession. He used to work at Armenia TV as a journalist but after this working experience, he started investigating human rights and media violations. Alexander also has experience in intercultural communication, conflict transformation, program management, information technology, research and analytical work, and is interested in psychology, philosophy, anthropology, human rights, and technology. He has been a member of the Youth Bank of Armenia for many years. He has worked as an expert at the Caucasus Research Resource Center, the Children of Armenia Foundation, the Yerevan Press Club, the Helsinki Committee of Armenia, and the Transparency International Anti-Corruption Center.
Since 2018, he is the Head of the "All for Equal Rights" Foundation. Alexander is studying journalism at Yerevan State University, is a blogger and writes articles in his spare time. As a member of PJC, Alexander supports communication, media, and human rights programs and is a communication specialist at the Media Center.