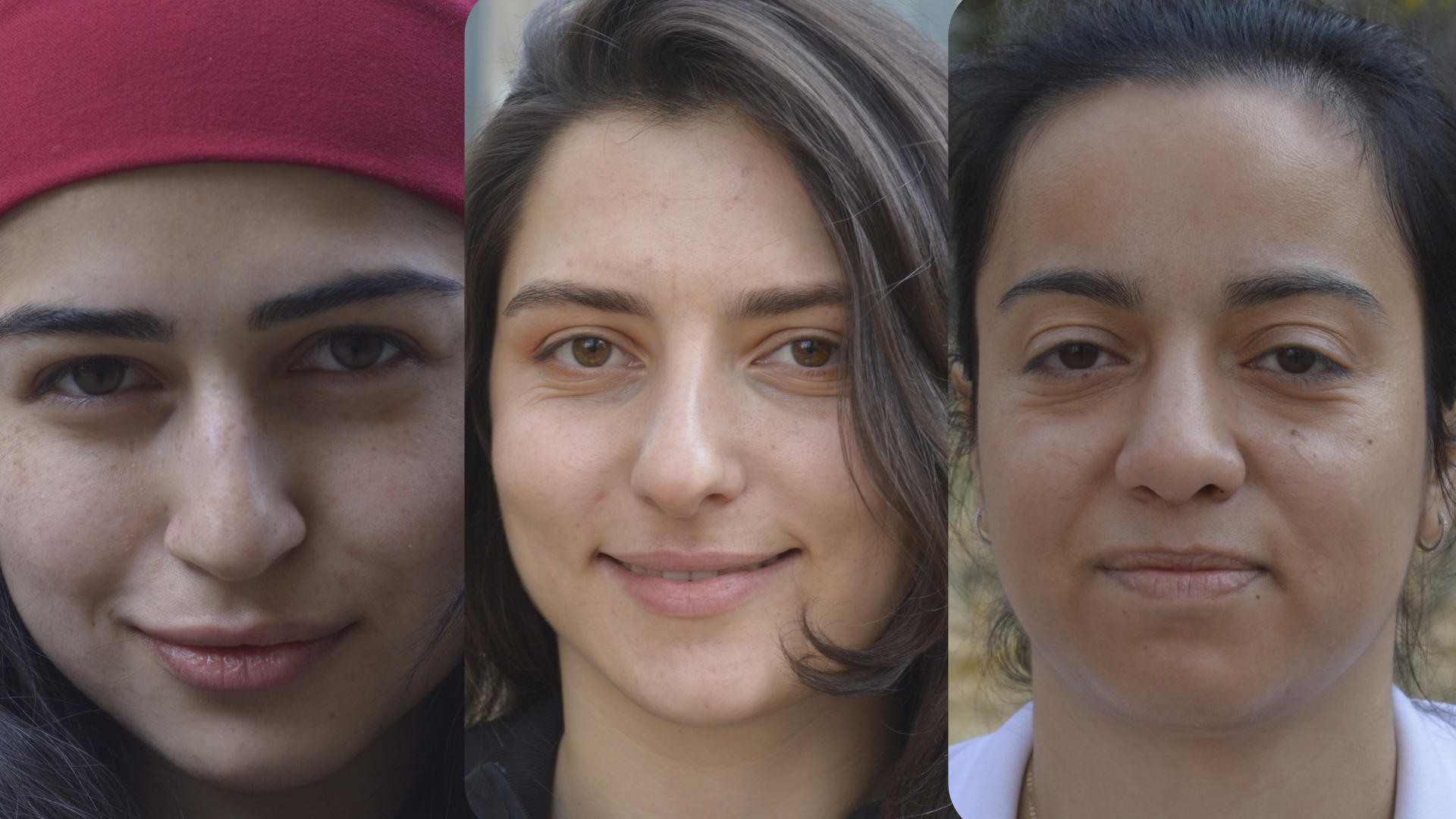 The Homeland is under the Protection of All of Us
November 16, 2020
Category: News
Text and Photos by Sofi Tovmasyan
"On the spot", "On the run", "Fast, fast" ․
Karapet Aghajanyan gives these and a number of other instructions to the volunteers on what to do and how to do it.
The instructor is a representative of VOMA NGO, and more than 100 people in military uniform, men and women, volunteers and cadets, have come to take military training classes.
"VOMA" representative Angin Khachatryan says that the trainings are hard and difficult, everything must be taken into account before making a decision to volunteer, in particular, health problems and the consciousness where they are going and why.
Instructor Karapet Aghajanyan mentions that the trainings last from 9 am until 6:00pm. They start with pre-training, then according to the schedule, first aid lessons, mountaineering, fire training, meeting with a psychologist, etc.
Karapet says that the first golden rule on the battlefield is to hold the weapon with both hands, and not to put the finger on the trigger, in short, knowing how to use the weapon is primary so that there are no accidents because of negligence.
The second important rule is to be careful, to walk consciously because in the forest area every sound can be risky for life.
30-40% of the participants in the trainings are female. In the case of women, the age group is set at 20-50, in the case of men – 20-60. Men are volunteers, women are cadets who take a 14-day course․ There is no order for them to volunteer yet!
The unexpected attack on Artsakh by Azerbaijan on September 27 that became a new large-scale war, changed everyone's plans.
Liana Davtyan, 22 years old
In peacetime, she was a dancer and a marketer, in a war situation, she is a translator and a cadet. The life of 22-year-old Liana changed dramatically just in one day.
During the first two weeks of the war, the family was forced to isolate themselves due to a coronavirus infection. During this period, she was involved in campaigns raising awareness. The world should be aware of the humanitarian disaster, she says.
She was also fighting against disinformation, made translations into French, as soon as the isolation period expired, she decided to join "VOMA" to undergo military training.
She has been coming to the trainings for ten days already, and her brother, who is a musician, has left for the frontline.
"For years we have imagined the war far from us, now it is impossible, we have no right, our panic will not help the soldier in any way. We cannot afford the luxury of serving the homeland in only one area. We must invest our knowledge on all possible fronts," says Liana.
The most difficult task for her in the first days was waking up early in the morning․ She is sleepy but she overcame it for the sake of training.
"When we finish physical education and start, for example, taking first aid classes, I catch myself on the thought that I am tired and want to sleep. But then I urge myself to concentrate because I will need the knowledge of the first aid a lot."
Liana says that everyone in "VOMA" is equal, and the slogan is epic: "A lion is a lion, be it a female or a male."
According to her, the family members have a very good attitude towards her decision to participate in the trainings, they are a bit concerned about ​​possible volunteering but do not put obstacles.
"Honesty is valued in our family. If I lied and said I was going somewhere else, my lie would come to light very soon, that's why I immediately informed them, they do not see any problem in being a cadet."
Liana says that she preferred to say clearly where she was going and what she wanted because her opinion is taken into account in the family, and the decisions are respected.
Before going to dinner, Liana manages to show some important things. She says that as soon as you hear the "air-raid siren", immediately look for a tree and lie down under it, like an embryo. She explains that in this position the vital organs will not be harmed.
"Do not forget to close your ears and to open your mouth. Also do not run in the same direction with a large group, do not gather as it is dangerous," she concludes.
Diana Papyan, 29 years old
"I did not leave any option for my employer, I said I am returning to Armenia, otherwise, I would terminate my contract," says Diana Papyan, a program developer living in Germany.
Diana has been living in Germany for 7 years, first she went to continue her education there, then she found a job and stayed there but, according to her, she has never lost contact with the homeland.
The war started, Diana's plans changed accordingly, she decided to come to Armenia to take military training classes. She was lucky as the employers understood and agreed that she go on working remotely.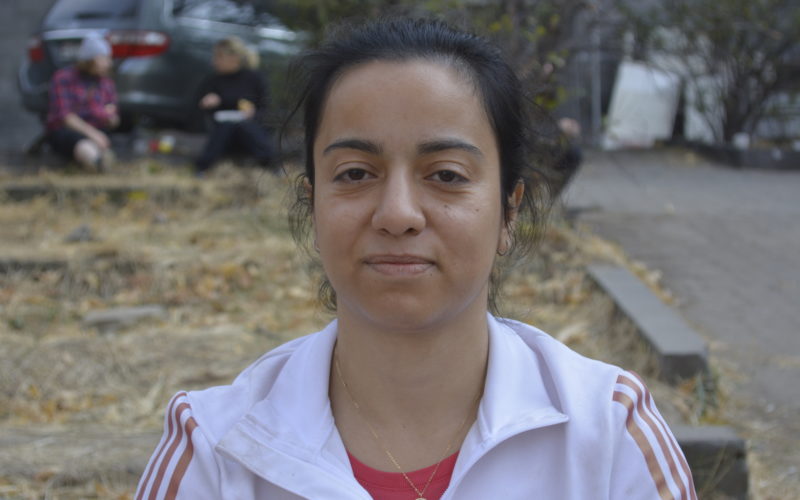 "I have been coming for 4 days. I have high hopes that everything will end as soon as possible and that we will not need our help on the battlefield, but, nevertheless, here we acquire skills that can be used by everyone. We must be ready every minute. "
According to Diana, the trainings are very well organized. He says that they teach how to react to any situation, they prepare correctly in the shortest possible time so that the person going to the front line understands what to expect, how to organize his steps so that he is as safe as possible.
Diana used to do gymnastics, she is used to physical activity, she says it is more difficult to overcome the limits set by the brain.
"In any situation, when you think you can not do it, you can do about 50% more. "Therefore, we must not neutralize the artificial boundaries set by the brain and we will see that our abilities are much more than we use," says Diana.
Diana's mother, Anna Petrosyan, says that Diana immediately informed both her and her husband about the decision. He mentions that as long as his daughter is in the territory of the Republic of Armenia, he has no worries, but when it comes to volunteering, he will not be able to make a decision calmly, and the worries will hardly leave him.
Lilit Jalalyan, 29 years old
Lilit, an employee in the IT sphere, has already taken a vacation for the second day to come to "VOMA". On the first day she was afraid that the trainings would not be serious but she came and saw that everything was strict, that they were really teaching her how to survive.
"I always try to keep fit, I run in the mornings, I do choreography in my free time. My sports training has prepared some grounds for coming here."
Lilit is sure that the decision to volunteer must be made consciously, first of all understanding within yourself whether you are ready or not.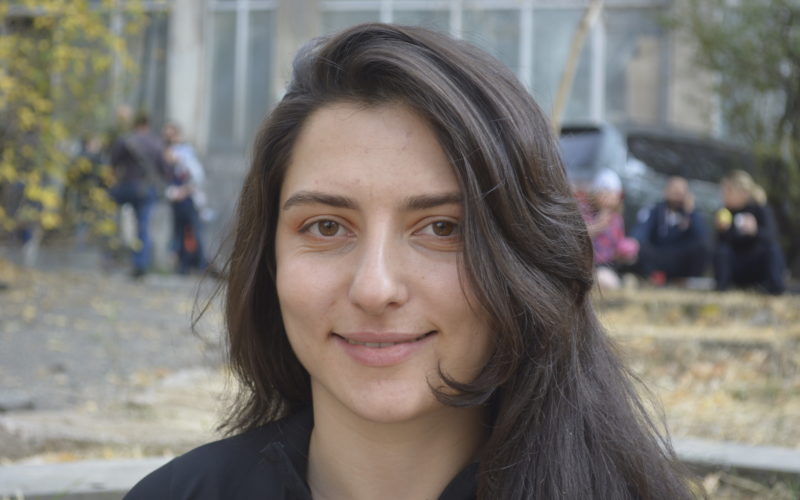 The reaction in her family was positive, and the father also wanted to join but since he is in the target group, they persuaded him to stay at home, and her sister will probably join Lilit next week.
The sister, Lusane, was surprised, skeptical of the news reported by her sister, saying that she had seen with her own eyes how hard they were training. On the contrary, Lilit's father, Karlen Jalalyan, was not surprised by her daughter's decision.
"It was not particularly surprising. Lilit's approach is like that in all issues, it is very decisive, especially in extreme conditions," says Lilit's father.
What if women are allowed to volunteer?
"I will respond positively because at some point gender does not matter anymore. The homeland need to be under the protection of all of us. "I hope it will not reach that but if there is a need, both women and men will go to defend their homeland," says Lusane.
The father also mentions that he does not want his daughter to volunteer but one thing is for sure, the final decision is Lilit's, she will not stop her.
"If Lilit has something in mind, she will do it. We always leave the last step to them, let it be their decision. They can return home."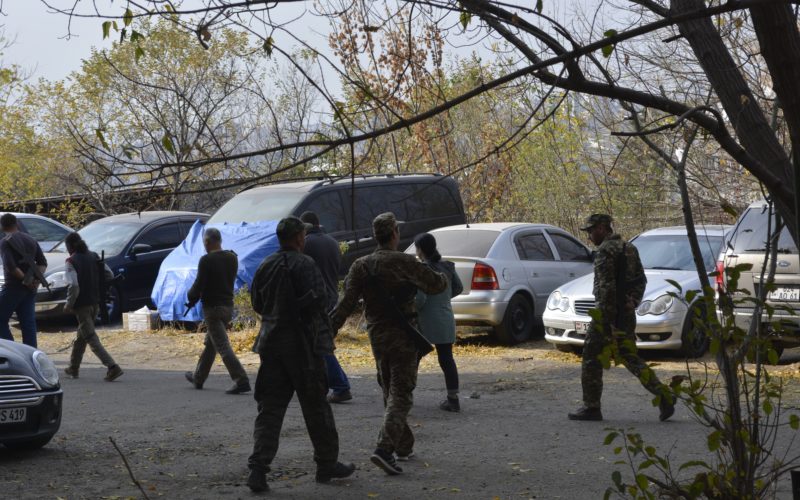 Lilit, 28 years old
"No one knows at home that I am undergoing military training, I said that I had come to the first aid course," Lilit smiles and says.
Lilit says that her brother's service has passed in one of the most dangerous positions, where peace and war are always next to each other, the parents were much stressed, she does not want to make them stress for the second time.
"I have always dreamed of coming. Now I work from home, I can finally combine work with trainings. I am a cadet, if there is an opportunity I will volunteer, and in that case it will be more difficult to tell my family than to leave."
Lilit has been training for 10 days already. The mood is combative. Only she does not like the morning trainings, she says that she would be a naughty soldier.
She follows all the other rules, and the new challenge of each day motivates her to wake up the next morning and hurry to train again.