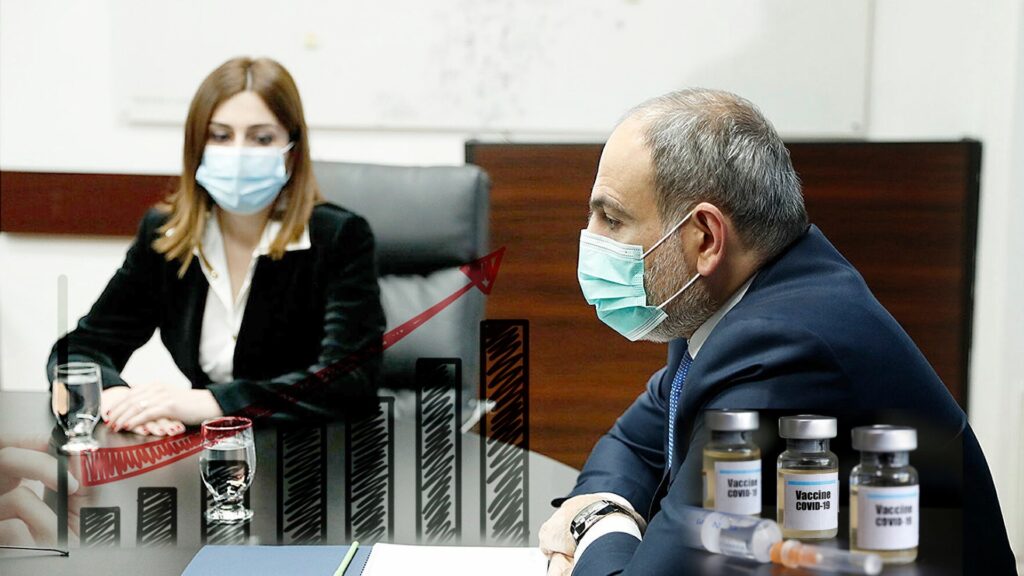 Tracking Down Vaccination Rates in Armenia
December 5, 2021
Category: News
The article is available here.
_____________
Since the beginning of the vaccination campaign in Armenia on April 14 until November 24, 1.110.891 vaccine shots have been administered, of which 738.887 are first dozes and 372,004 are second dozes.
Since that day, the Ministry of Health has been persistently disseminating incomplete and inaccurate information and avoiding fulfilling certain orders.
This problem was first voiced by Nikol Pashinyan on July 22 during the government session. He instructed the ministry to start providing daily statistics from that point onward. Furthermore, he asked the ministry to provide separate daily figures for all foreigners vaccinated in Armenia. "I think we should provide separate figures for Armenian citizens and for foreigners. We have agreed to maintain a daily rate of at least 5000 vaccinations administered to Armenian citizens"- said Pashinyan.
The ministry did not follow the order, just as it failed to publish daily statistics on vaccinated foreigners claiming these statistics are "summarized and published on a monthly basis"․ This is strange given the fact that the vaccination process in Armenia began in mid-April. Statistics delivered in the configuration requested by Pashinyan were first provided by the Ministry of Health on September 6 and November 2 only. CivilNet tried to understand why the ministry is "hiding" such important information and how much the published data corresponds to the truth.
Where it all began
The first ever post published by the Ministry of Health on the statistics of vaccinations was made on May 7 on the authority's official Facebook page. According to the post, 10.281 vaccinations had been carried by that time.
At this initial stage, the ministry was not providing separate figures for 1st and 2nd dozes and this format of reporting was used until June 28.
Vaccination of Foreigners
Following the launch of the vaccination campaign, a vast number of foreigners, predominantly Iranians, came to Armenia. Up until July 15 of 2021, visitors could get vaccinated in Yerevan without any limitations. However, the ministry soon changed its stance, making vaccinations available for only those foreign citizens or non-citizens who had spent at least 10 days in Armenia and had registered for it.
By July 15, the number of Iranians coming to Armenia to get vaccinated dramatically increased. People were posting videos of large groups of Iranians on the Armenian-Iranian border waiting for their turn to cross it, and there were long queues of Iranians by the mobile vaccination station operating on Northern Avenue in Yerevan. Some of them said the medics were vaccinating over 50 persons a day while there were more than 400 people waiting in the line.
What the Statistical Committee has Said
According to the National Statistical Committee of Armenia, a total of 22,609 Iranians have entered Armenia from January to June, 2021, of which 18,917 crossed the border once to enter the country. Similarly, a total of 20,736 Iranians have left the country, of which 17,246 have crossed the border once just to exit the territory of Armenia.
"The Ministry previously announced that statistical data has been recorded from the 15th of July until the 4th of August. As stated in the announcement, 56010 of the 58100 vaccinated individuals were Armenian citizens. This shows that there have been roughly 2000 foreigners that received their vaccination here. This is all the information I have," said Davit Melik-Nubaryan, Senior Lecturer of the Chair of Public Health and Healthcare Organization of Yerevan State Medical University.
Interestingly enough, this information is rather outdated. According to Melik-Nubaryan, apart from the statistics on the vaccination of foreigners, there is much more the professional community would like to know. "Today Covid-19 is controlled and managed through a unified e-health system and there are certain statistics that we, as specialists, would very much like to know- for instance, how many of those vaccinated pick up the virus, how many of them end up in the  intensive care unit, and how many die- both at a national and regional level. These are all very important issues and as far as building public confidence is concerned, the number of vaccinated foreigners must be made accessible for the public. However, in my opinion, it cannot be a large number by any means. There simply cannot be tens of thousands of vaccinated foreigners," said Melik-Nubaryan.
He claimed statistics on foreigners getting vaccinated in the country were published only on August 4.
When asked why Nikol Pashinyan's instructions are not being unquestionably fulfilled, our guest suggested we inquire the Prime Minister's Chief of Staff, Mr. Arayik Harutyunyan. "Broadly speaking, we generate fair statistics. I can say with confidence that these statistics are not hidden from anybody. However, there are often discrepancies in the statistics published in various sources such as the official number of Covid-19 deaths as published by the Statistical Committee and by the National Center for Disease Control. This is, of course, a big problem whose causes must be identified and tackled. "I could say there are gaps that need to be eliminated," said Melik-Nubaryan.
CivilNet also referred to a number of relevant organizations and bodies to understand what the ratio of foreigners vaccinated in Armenia is to vaccinated Armenian citizens.
All of the medical centers administering vaccines either refused to answer our questions or said the only body possessing this information is the Ministry of Health. The latter was also non-responsive.
Our inquiry sent to the Armenian country office of the World Health Organization was also ignored, and the Iranian Embassy in Armenia refused to provide any information regarding the number of Iranians vaccinated in Armenia.
If we consider the beginning of the vaccination campaign in Armenia to be mid-April and take the total number of vaccinations administered until October 17 (588,385 vaccinations) and divide it by the number of days in that period (185 days), we will get an average daily rate of 3,180 vaccinations. Nikol Pashinyan's instruction, however, was "to maintain a daily rate of 5000 vaccinations." Had this trend been followed, there would have been 925.000 Armenian citizens vaccinated in that same period of time.
In order to further the vaccination process in Armenia, the government has issued other relevant orders and decrees, in particular, that citizens operating under the current regulations must either be vaccinated or submit a negative coronavirus test every two weeks when going to work. Additionally, it is now discussing the possibility of charging unvaccinated citizens for their COVID-19 treatment which is otherwise free for those who are vaccinated. Prime Minister Nikol Pashinyan even said there should not be any unvaccinated employees in the public administration system.
To reach this goal, the Ministry of Health will have to vaccinate another 111. 615 citizens, which is 1,488 citizens a day. However, for sustainable communal resilience, 70% of the population, that is 2.079.315 out of 2.970.450 must be vaccinated, which, at these rates, would take the government another 2 years.
By the way, all information related to vaccinations is collected and stored in the e-health system Armed, which allows the citizens to download the system's mobile application, sign in and view the details of their vaccination and their unique "QR" code.
In conclusion, it can be said that up until this moment, the Ministry of Health has failed to specify the number of vaccinated foreigners in the general sum of all vaccinated individuals. In addition, it does not provide information on the number of daily administered vaccinations.
Below, the official statistics of the Ministry of Health on vaccinations are given in order of publication.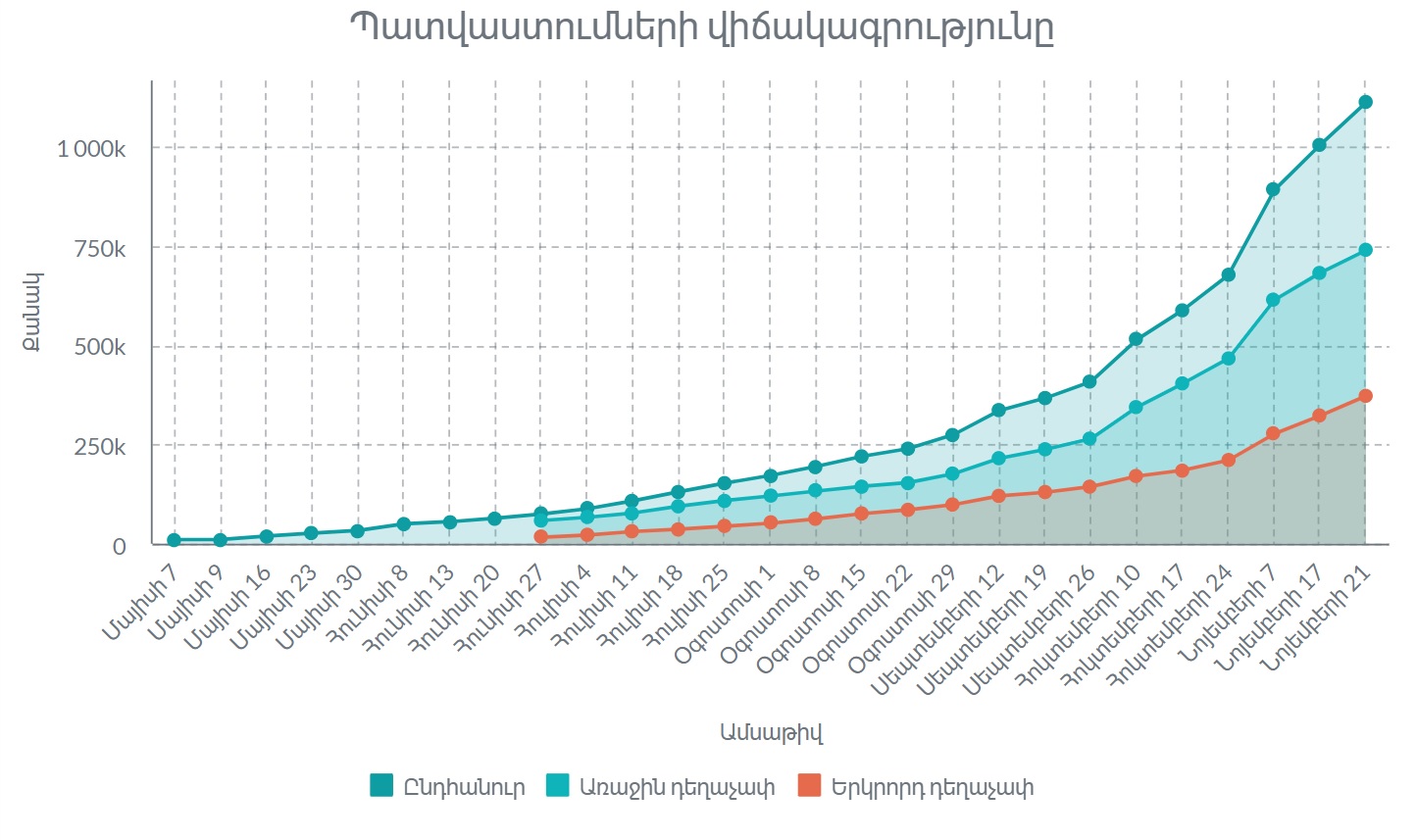 Gevorg Tosunyan
Mkrtich Karapetyan
 _____________
This fact-checking article was prepared within the framework of the "Media literacy for the disadvantaged in society" project implemented by DVV International Armenia and Public Journalism Club with the support of the German Ministry of Foreign Affairs.