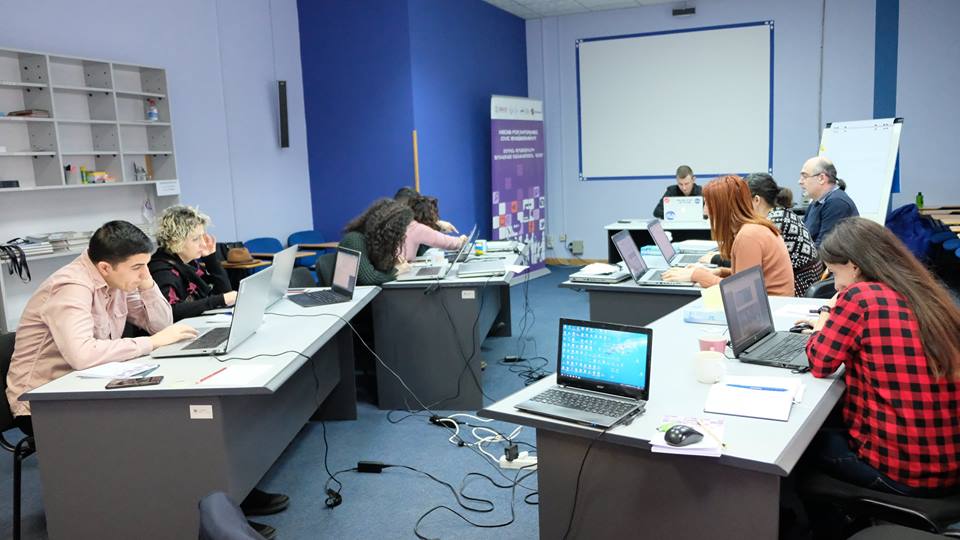 Workshop about fact-checking in election season
The Public Journalism Club (PJC) and the Media  Media Initiatives Center  (MIA) jointly hosted a workshop [November 10-11] for journalists entitled "Fact-Checking in Election Season.
The workshop was facilitated by  Jody McPhillips  and Dave Bloss – regional editors at Organized Crime and Corruption Reporting Project (OCCRP), media expert Samvel Martirosyan and Hrant Galstyan, a reporter from Hetq Online, who specializes in fact-checking.
The two-day training was attended by journalists from Mediamax.am, Armenpress, Aravot, Ampop Media, Infographics.am, politica.am and other media representatives, as well as freelance contributors.
The trainers spoke about the challenges of verifying information disseminated by online platforms during the pre-election period in Armenia, fact-checking standards applied by OCCRP and Hetq Online, as well as the track-record of introducing a fact-checking system in Georgia.
The experts and participants of the two-day course explored the content published by Armenian media and discussed the necessity and possibilities of introducing a fact-checking system in Armenian media field.
"Despite the differences between foreign and Armenian media, we attempted to discover similarities and draw parallels to understand what kind of peculiarities the fact-checking method would have in store for us, if it had really worked for them," said Gayane Yenokyan, a reporter from Mediamax.
"Fact-checking should be widely introduced in Armenia. With a wide range of reporting platforms in Armenia, where professional journalism is mixed with information sources of questionable reliability, fact-checking should become a cornerstone," said another participant, Sedrak Mkrtchyan, a data visualization specialist and founder of Infographics.am.
The workshop was organized within the framework of the Public Journalism Club's  Establishing Fact Checking Network project and  Media Initiatives Center 's Media for Informed Civic Engagement project.
Establishing Fact Checking Network  project is funded by the US German Marshal Fund's  Black Sea Trust  project, as well as with the support of the USAID-funded Media for Informed Civic Engagement project.
The project is aimed at promoting the development of fact-checking culture, enabling the media in Armenia to provide accurate, unbiased and balanced presentation of news, media content and to equip media representatives with the fact-checking skills in order to minimize disinformation risks, public misperceptions and increase objective knowledge of important issues among general public.