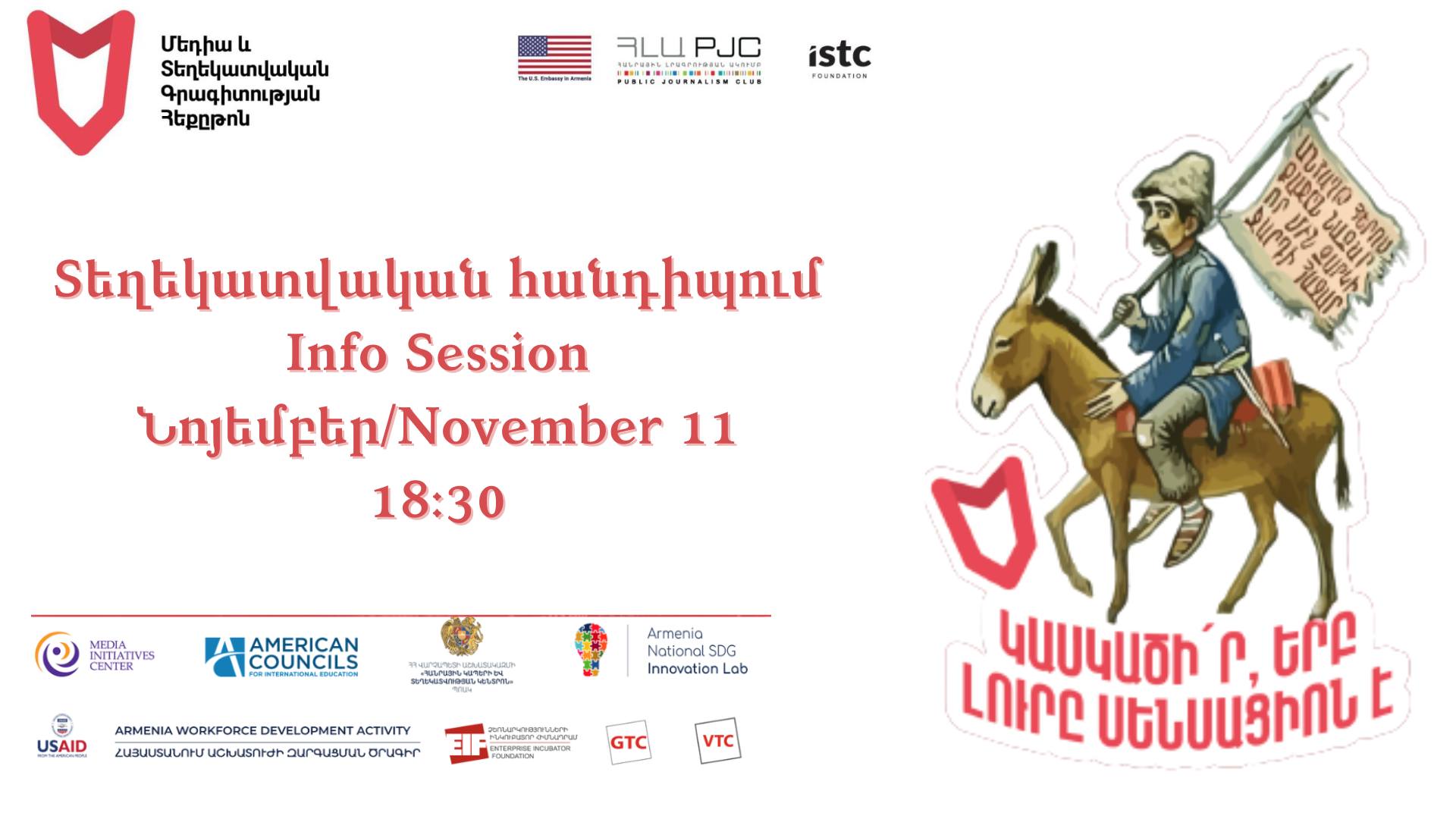 Information session of the Media and Information Literacy Hackathon
On November 11, 18:30, an information session will take place on "Media and information literacy Hackathon 2022" at the ISTC Foundation.
The Hackathon is being implemented by the Public journalism club jointly with the "Innovative Solutions and Technologies Center" Foundation with the support of the US Department of State Public Diplomacy Section within the framework of the "Media and Information Literacy Accelerator" project.
At the information session, the details of The Hackathon will be presented, and a discussion on the challenges of media literacy in Armenia will be held. The participants will also have an opportunity to ask questions to the organizers.
The goal of the "Media and information literacy Hackathon 2022" is to bring together information and communication technologies, media, and education sectors of Armenia and support development of technological solutions that will assist journalists in their fact-checking and information verification, as well as solutions, that will contribute to the promotion and institutionalization of media literacy.
Our partner institutions The Media Initiatives Center, the American Councils in Armenia, the Enterprise Incubator Foundation (EIF) with its Armenia Workforce Development Activity project funded by the United States Agency for International Development (USAID), Gyumri Technology center, Vanadzor Technology center, Armenia National SDG innovation lab, "Public Relations and Information Center" SNCO of the RA Prime Minister office have also joined this innovative initiative.
The "Media and information literacy Hackathon 2022" will take place on December 3 and 4 at the ISTC Foundation (address: 1/7 Alek Manukyan, Yerevan, Yerevan State University). Please fill in the online application to apply.
The "Media and information literacy Hackathon 2022" is part of the National Media Literacy Week in Armenia (November 7-13, 2022) which is organized annually by Media Initiatives Center and the RA Ministry of Education, Science, Culture and Sport. For additional questions, you can contact PJC at [email protected] or call us at +37499 755 898.