Access to Information: New Challenges, New Solutions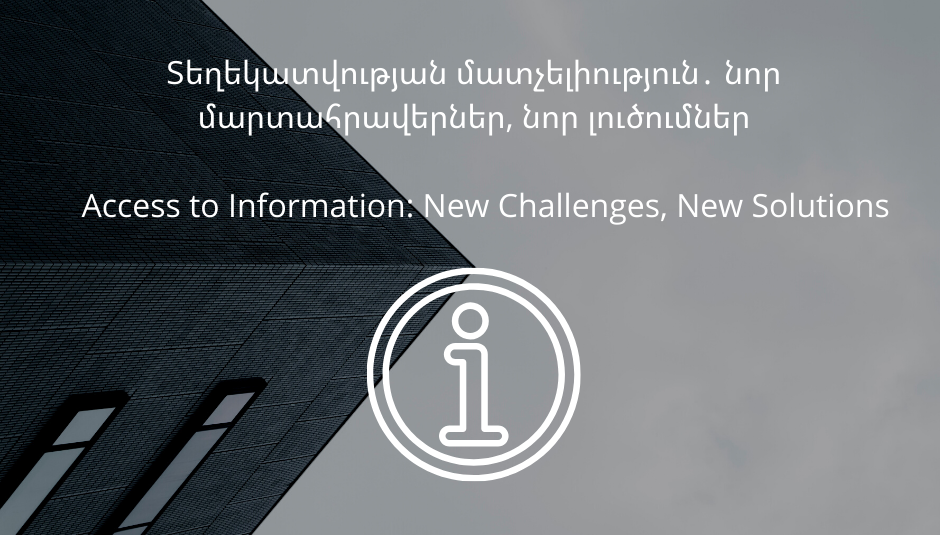 Project name: Access to Information: New Challenges, New Solutions
Project implementers: Freedom of Information Center (FOICA) in cooperation with the Public Journalism Club (PJC)
Date: 15.Aug 2019 – 31 Oct 2020
Donor: The Project is supported by the U.S. Embassy in Armenia.
The proposed project will be implemented by the coalition of the Freedom of Information Center (FOICA) and Public Journalism Club (PJC).
The primary goal of the "Access to Information: New Challenges, New Solutions" Project is to foster access to information and proactive transparency in the new government, as well as to empower the youth with the practical knowledge and skills for playing a key role in government watchdog and oversight.
The project objectives are:
– To strengthen the capacities, improve the knowledge and skills of new public officials on the obligations under ATI legislation;
– To empower the youth with practical knowledge and skills on access to information and fact-checking as major tools to watchdog the government and to form informed opinions in Armenia.
– To improve the flow and quality of public information.
Other Projects
Project Title: Support to the Armenia-Turkey Normalization Process: Rapid Response (ATNP Rapid Response) Donor Organization: European Union Lead Organization: Eurasia Partnership Foundation (EPF) Implementor Organizations: The Consortium partners include Civilitas Foundation (CF), Eurasia Partnership Foundation (EPF), Public Journalism Club (PJC), Regional Studies Center (RSC) from Armenia; and Anadolu Kültür, the Economic Policy Research Foundation of Turkey (TEPAV), Helsinki Citizens' Assembly (HCA), and Hrant Dink Foundation from Turkey. PJC Collaboration: Public