Youth Taking Action and Making News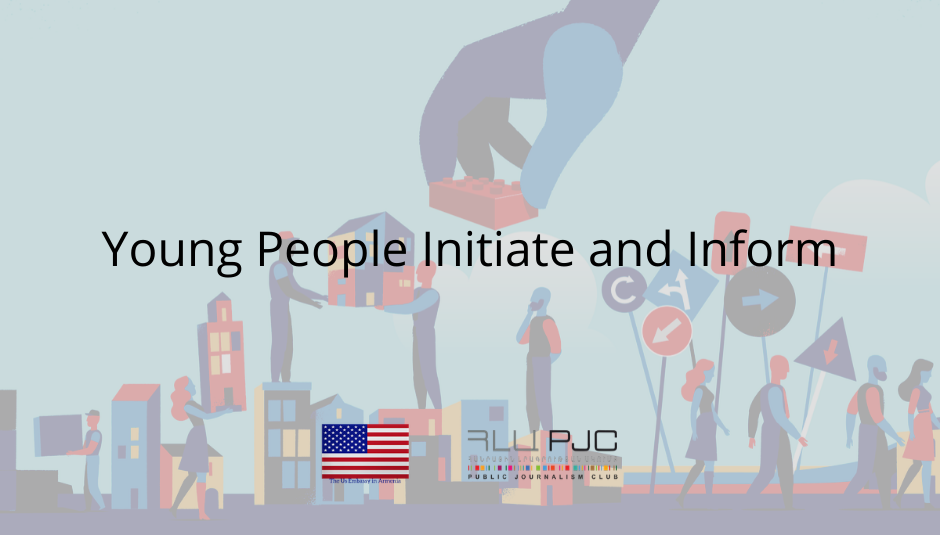 Public Journalism Club launches "Youth Taking Action and Making News" project with the financial assistance of the US Embassy in Armenia under the Democracy Commission Small Grants program.
The goal of the project is to motivate young school students from two selected administrative districts of Yerevan (Ajapnyak and Davtashen) to creatively identify improvements to their communities, promote those with their respective local governments and mobilize their peers, community leadership and activists to implement the best suggested solutions.
The 9th-10th graders of Ajapnyak and Davtashen administrative districts will take part in an essay competition covering community issues and improvements. The master classes on innovative ideas, journalism and other subjects will help the students to propose their creative ideas.
The best two ideas (one per administrative region) for implementation will be selected by a professional jury. A group will be formed around the selected ideas for implementation action.
By the end of the project one idea per administrative region will be implemented.
The program includes:
Essay contest
Workshops on how to propose and present creative and catchy ideas
Training for teams working on an idea
Implementation of ideas
The most interesting essays written in the frame of "Youth Taking Action and Making News" project will be available on MyNews.am website.
The project launched on 1 October, 2015 and will last for 8 months.
Other Projects
Project title: Hack2Check: Media and Information Literacy Hackathon Project funding:  Public Diplomacy Section, U.S. Department of State  Project implementer: Public Journalism Club (PJC) & Armenian General Benevolent Union (AGBU) Armenia Project partners:  American University of Armenia (AUA), Enterprise Incubator Foundation (EIF) with its Gyumri and Vanadzor Technology Centers Implementation period: October 2023 – August 2024 Budget: 70.000 USD   Project goal The goal