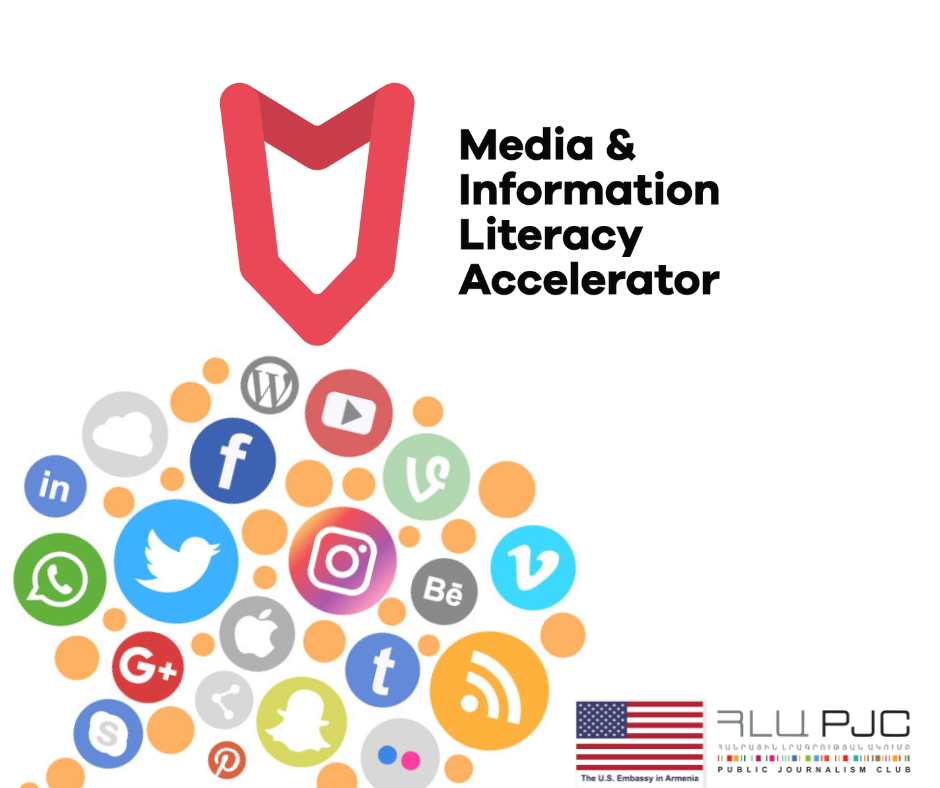 The Public Journalism Club, in collaboration with Spanish Maldita, has launched an educational course on fact-checking and media literacy
October 28, 2022
Category: News
The Public Journalism Club (PJC), funded through a Department of State Public Diplomacy Section grant, has created a Media and Information Literacy Accelerator.
It is a unique educational project aimed at media literacy and fact-checking, envisaged for media workers of Yerevan and regions, as well as students of journalism faculties.
Out of the large number of applicants for the first stream of the Accelerator, only 16 got the opportunity to participate in this free course, which lasts for two months.
Within the Accelerator, the best fact-checking and media literacy experts from Armenia and the Spanish "Maldita" company will transfer valuable theoretical and practical knowledge to the participants through webinars and seminars, introduce applicable and useful fact-checking tools, which will be a new impetus in the fight against disinformation.
In addition to acquiring new knowledge and skills, the Accelerator participants also have the opportunity to present individual projects aimed at fact-checking and combating disinformation, as a result of which the best ones will receive grants.
It's worthy to mention, that the Accelerator experts refer not only to theoretical knowledge, but also discuss specific cases of disinformation, for example, the dangers of fake news and disinformation, the mechanisms of struggle against them during crisis situations, in particular, the COVID-19 pandemic; the Russian-Ukrainian war; election processes.
It should be noted that the Accelerator is an online/offline innovative educational environment, where in a short period of time the participants are given the opportunity to acquire the necessary skills, knowledge and experience through trainings, develop capacities and put them into practice.
PJC plans to conduct two more courses within the framework of the Media and Information Literacy Accelerator in 2023.
More details about the Accelerator are available here.
Check out the project details here.