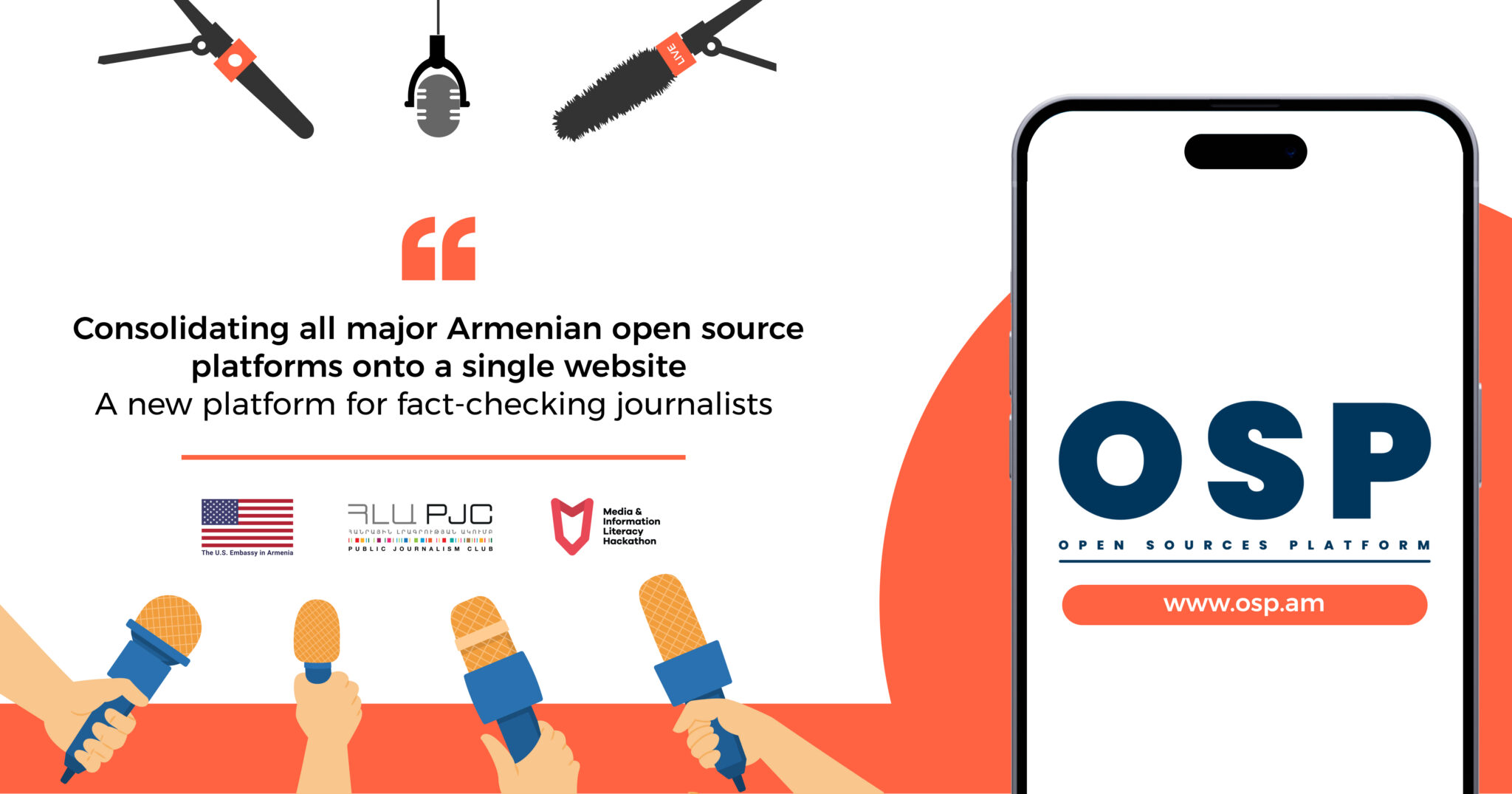 www.osp.am: The Recently Established Fact-Checking Platform to Serve as a Valuable Support System for Journalists
September 28, 2023
Category: News
The Public Journalism Club (PJC) has launched a new fact-checking website known as the Open Sources Platform. Osp.am innovative platform is designed to provide crucial support to investigative journalists, fact-checkers, and data journalism experts by simplifying their access to information from Armenian open sources.
The platform was created within the framework of the "Media and Information Literacy Accelerator" project implemented by the Public Journalism Club. This project is funded through a Department of State Public Diplomacy Section grant.
Seda Muradyan, the Head of the Public Journalism Club, highlights, "Our commitment to advancing media literacy and factual journalism is reflected in this website, offering access to all the essential open source platforms in Armenia required for producing high-quality media content."
According to the PJC President, the website is set to be particularly valuable for the journalistic community, facilitating navigation through open-source platforms and providing accessible guidance on information searching methods.
This guide will assist you in navigating the site effortlessly
The website has compiled a range of useful resources, guides, and databases, simplifying the process for visitors to avoid getting overwhelmed by vast amounts of data. It allows users to utilize filters for quicker and more straightforward source discovery. Moreover, users can conveniently access open source guidelines directly from the platform's homepage, where they are categorized under sector-specific logos, simplifying the search process.
Osp.am also enables journalists and data professionals to share data that is not available in open resources. By filling in the empty fields in the "Share databases" window on the home page, you can attach data and files that will be analyzed and presented on the platform as needed.
The website's main page also offers valuable insights into the InVID tool, along with the option to download it.
InVID is an initiative that develops and provides users with sophisticated fact-checking tools. Created by Agence France-Press (AFP), this platform allows you to check text, photo and video content, search them on social media platforms and various other sources, which allows the user to detect possible fakes and misinformation, manipulations used in visual content, etc.
Following extensive discussions with the AFP InVID program team, the Public Journalism Club has undertaken the translation of this tool into Armenian. This initiative aims to support fact-checking journalists in their endeavors to produce and disseminate media-literate content. Moreover, InVID offers a variety of resources dedicated to media literacy and fact-checking, including webinars, guides, research materials, slideshows, video classes, and other valuable assets.
For any further inquiries, please feel free to reach out to Hasmik Paytyan, the Communications and Projects Coordinator at PJC. You can contact her via cell phone at 093270808 or through email at [email protected].