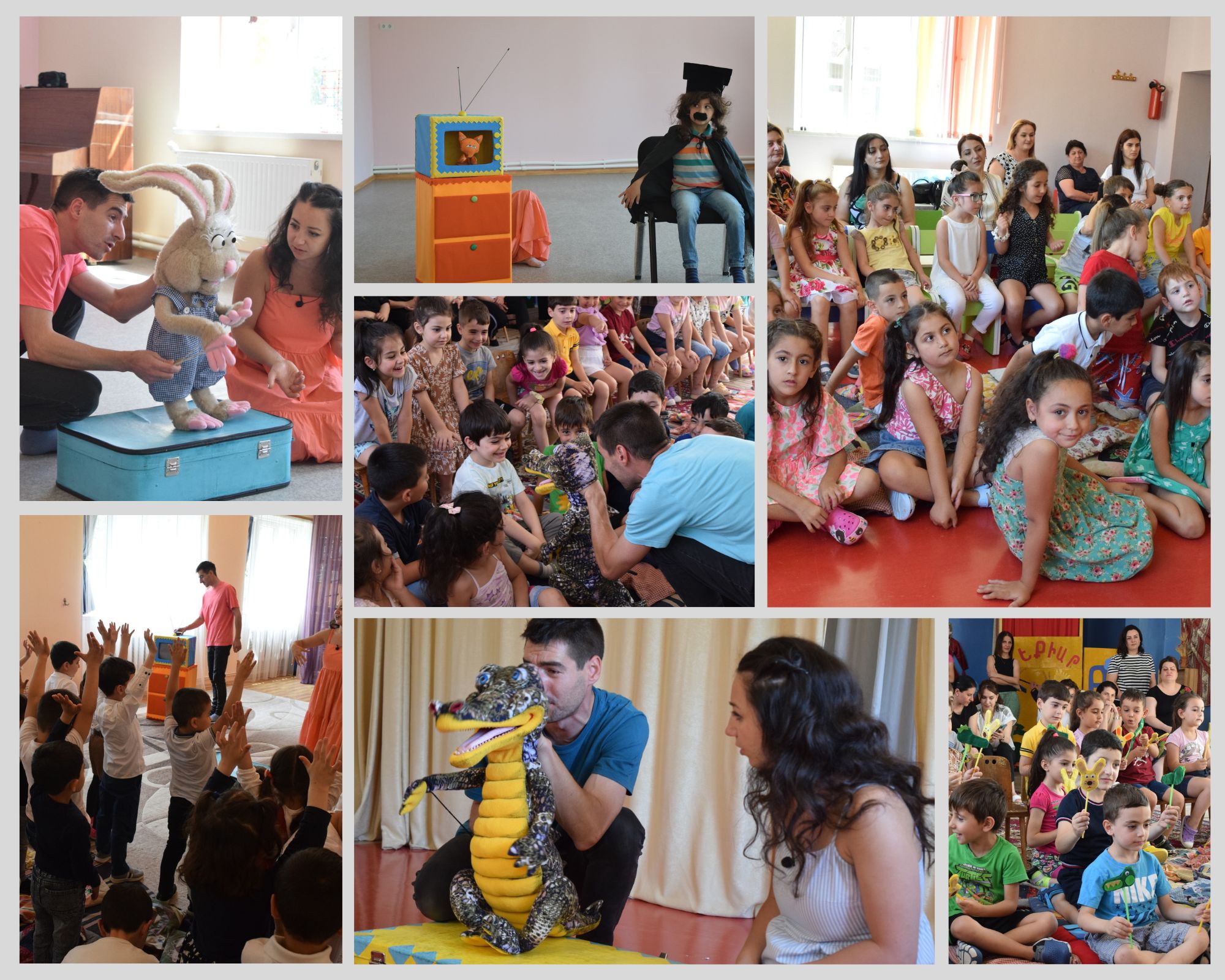 Tour of "The Stolen Sun" in Armenian Kindergartens in Support of the Fight Against Misinformation
October 30, 2023
Category: News
More than 150 children of five kindergartens in Armenia learned the basics of media literacy through fairy tale and performances.
Recognizing the significance of nurturing media literacy from a young age and building upon the achievements of "Chicken Clicking," the Public Journalism Club (PJC) collaborated with the interactive theater "Heqiateren" to stage a theatrical adaptation of Korney Chukovsky's renowned work, "The Stolen Sun," in kindergartens across the communities of Vagharshapat, Sevan, Geghamavan, Metsamor, and Parpi.
In the forest, a rumor swiftly circulated that a crocodile had "devoured" the sun, leaving both forest inhabitants and kindergarten children confused. Where has the light gone, who is to blame, how to find out the truth? Children find answers to these questions together during the performance. After misinformation spreads in the forest media, the children do some research and try to find out the truth.
A scripted and carefully staged trial facilitates a comprehensive examination of all involved parties, the thorough evaluation and comparison of evidence, and the subsequent informed decision-making process.
Of course, as in all fairy tales, good wins over evil, the truth spreads throughout the forest, and the children become a part of that truth because of their involvement.
The heroes of the "The Stolen Sun" fairy tale taught children that they should be careful when listening to news and spreading rumors on digital platforms, because there is a great risk of believing wrong or maliciously distorted information.
"Media literacy as a concept needs to be passed on to children from an early age. However, how to explain and talk to children so that they do not run away from these complex terms and concepts typical of the world of adults? We have found a solution, which is the language of games, fairy tales and interactive presentations. Over the course of several years, we made sure that these methods work best for both adults and children," notes Seda Muradyan, PJC Founder and President.
This initiative was implemented by the "Public Journalism Club" NGO within the framework of the "Media and Information Literacy in Early Childhood Education" project. PJC, together with its partner institutions, the "Step by Step" Foundation and the Teaching Academy organization, is trying to support children and educators of Armenian early childhood educational institutions in becoming media literate, equipping with media and information literacy knowledge and skills, with tips to act more competently in the online domain and consume information safely, contributing to the creation of a media-literate society resistant to misinformation.
The project is funded through a Department of State Public Diplomacy Section grant. The partners of the project are "Step by Step" Foundation (SBS), Teaching Academy, "National Center for Education Development and Innovation" Foundation, "Heqiateren" interactive theatre.
After the performances, PJC representatives held discussions with educators and directors of kindergartens on the importance of exchanging opinions, using tools aimed at developing media literacy skills, and developing critical thinking in children.
Educators agreed that such initiatives are very important, especially considering the introduction of media literacy in the new standards of general education and the critical importance of its promotion. They received media literacy online stories from PJC – "Chicken Clicking", "The Technology Tail" and "Once Upon a Time…Online", and assured that the acquired knowledge and recommendations were very useful, and they will definitely include them in the educational process.
The goal of the "Media and Information Literacy in Early Childhood Education" project is to better equip Armenian educators with media and information literacy concepts and skills, to enhance their digital safety skills, to help them in better understanding of personal data protection and to achieve MIL resources and teaching plans developed within the project to be integrated into the preschool system.
More than 500 educators participated in webinars aimed at the development of media literacy by leading international and Armenian experts, and 31 educators participated in training for trainers (ToT) offline course.
In case of additional questions, you can contact Hasmik Paytyan, PJC Communications and Projects Coordinator (cell: +37493270808, e-mail: [email protected]).