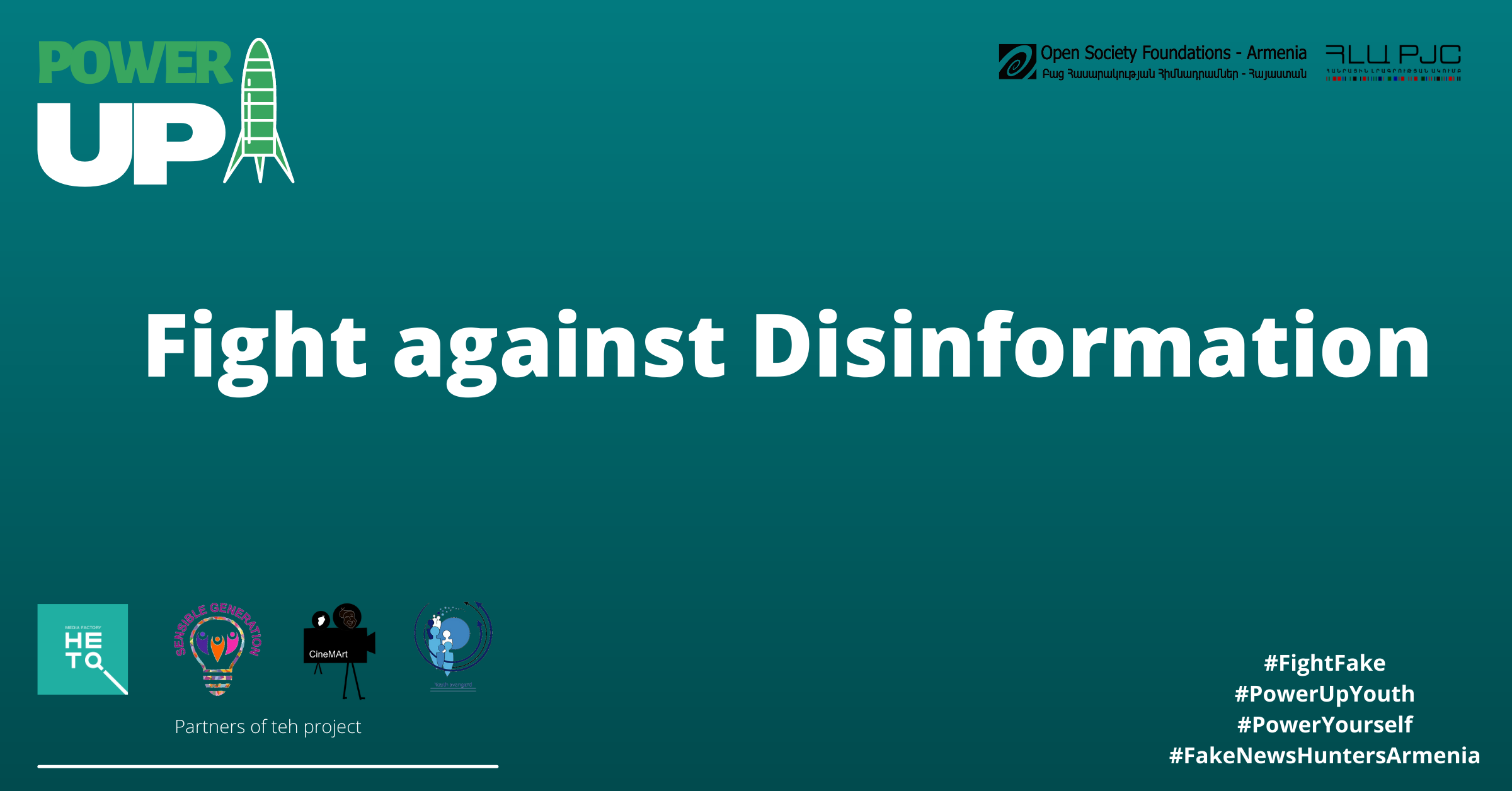 Two-day Workshop on Combating Disinformation with the Participation of Young People from Shirak, Lori and Armavir regions
Tired of disinformation? Are you surrounded by fake news? Do your friends and family share unverified information?
It's high time to stop worrying and to start acting against disinformation. The best way to prevent fake news is to spread verified information and be influential on social media.
Media literacy and critical thinking help us to orient ourselves under the information flows, to identify the fake from the real, to analyze the content and not to give in to daily manipulations.
All this is much easier to do when you are surrounded by the best experts in the field and peers from different regions of Armenia.
————————
The Public Journalism Club, within the framework of the "Power Up Youth Armenia" project, announces a call of applications for a two-day conference on media literacy, critical thinking and the fight against disinformation.
By participating in this project, you will become a leader of ideas and values who can unite the youth in combat against disinformation and verification of facts. It will help you to be more influential on the social network, to have a wider audience.
The selected participants in the project will be provided with many opportunities that will strengthen the abilities and skills of young people.
As a result, you will obtain:
– Fact-checking and information verification skills.
– Skills to fight against disinformation in your own community.
– Skills to create anti-fake TV programs.
– Content analysis and manipulation detection skills.
– Skills to be more active and influential in social networks, working with the audience.
To conduct all this, you will have like-minded peers to do all this, the support of the best professionals in the field and a lot of initiatives to make practice your skills and capacities.
The project will provide a lot more opportunities:
– Young people will have the opportunity to participate in workshops and master classes.
– Regional fact-checking centers will be established.
– Young people will create fact-checking media materials. They will participate in the process of creating anti-fake TV programs, as well as in online competitions and challenges.
– Young people will have the opportunity to write materials for the Hetq Media Factory, accept fact-checking orders.
– A regional fact-finding and disinformation network will be set up.
Who can participate in this program?
The pilot phase is open to young people aged 20-26 from Shirak, Lori and Armavir regions who are interested in media, journalism, social networks, media production, content writing, work with audiences, SMM, combating disinformation and fake news, leadership and the opportunity to be influential in social networks.
 How to participate in the program?
To participate in the program, young people must fill out an online application and if they have any questions, they should contact their regional coordinator:
– Shirak region, Sona, e-mail [email protected], tel. 077 841 939
– Lori region, Varduhi, e-mail [email protected] , tel. 095 901 212
– Armavir region, Susanna Matinyan, e-mail [email protected], tel. 098 554 406
The deadline for applications is March 1.
The two-day workshop will take place on March 13-14, 2021.
The selected participants will be informed about the venue.
The organizers will cover all the expenses related to the transportation, accommodation and all other expenses related to the event.
You can get acquainted with the details of the program by visiting the PJC website.
If you have any questions about the program, please contact Alexander Martirosyan, Communication Coordinator of the Public Journalism Club, by writing to [email protected].
————————
* This event is organized by the Public Journalism Club with the support of Open Society Foundations – Armenia.
 #FightFake #PowerUpYouth #PowerYourself #FakeNewsHuntersArmenia