Rapid Response Fund Initiative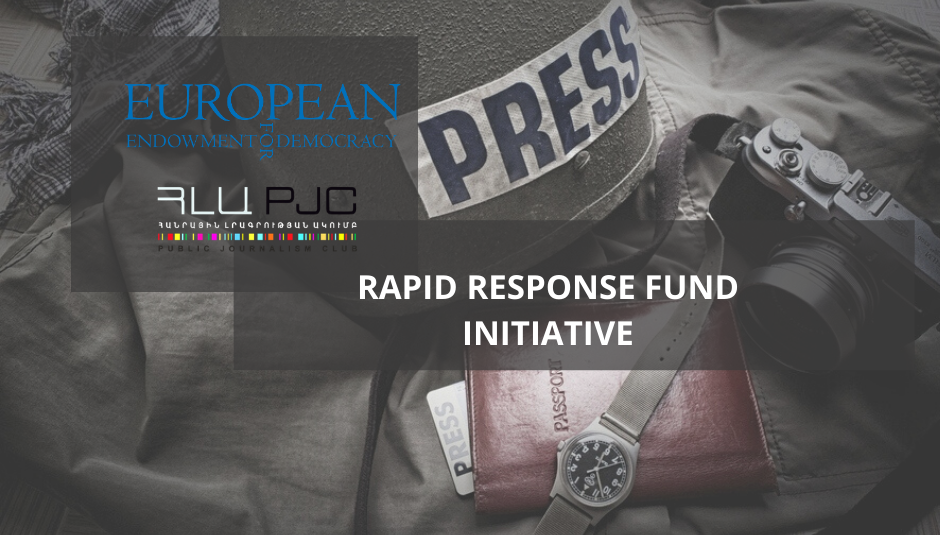 The Public Journalism Club implemented the "Rapid Response Fund Initiative" project, which covered the period of December 31, 2020-May 31, 2021. The project was funded by the EED (European Endowment for Democracy).
The project primarily targeted journalists, cameramen, photojournalists, documentarians, video editors, managers of media outlets covering the second Artsakh War and its consequences, also the civil society organizations carrying out media activities.
The target group of the project was also psychologists, who were given the opportunity to be trained in post-traumatic stress disorder.
The main goals of the project were to provide fast and flexible support to journalists and media workers, to provide them with medical and psychological assistance, to develop professional skills in international humanitarian law, first aid, digital and personal data security, and to raise awareness of psychological protection among journalists and the public.
To achieve the above goals, a series of training were organized by internationally recognized experts of the American "Dart Journalism and Trauma Center", psychological protection, and post-traumatic stress disorder (PTSD) experts.
The "Rapid Response Fund" project was implemented by the Public Journalism Club NGO. Within the framework of the project, a coordinating Consortium was formed, which included the Media Initiative Center, the Yerevan Press Club, the Freedom of Information Center, the Committee to Protect Freedom of Expression, and the Comprehensive Information Institute. The Consortium developed the long-term vision, mission, and strategy of the initiative.
The project budget was 41.020 USD.
Other Projects
Project Title: Support to the Armenia-Turkey Normalization Process: Rapid Response (ATNP Rapid Response) Donor Organization: European Union Lead Organization: Eurasia Partnership Foundation (EPF) Implementor Organizations: The Consortium partners include Civilitas Foundation (CF), Eurasia Partnership Foundation (EPF), Public Journalism Club (PJC), Regional Studies Center (RSC) from Armenia; and Anadolu Kültür, the Economic Policy Research Foundation of Turkey (TEPAV), Helsinki Citizens' Assembly (HCA), and Hrant Dink Foundation from Turkey. PJC Collaboration: Public